Dhamma centre petitions House
by SUPAWADEE SUSANPOOLTHONG, Bangkok Post, June 23, 2005
Bangkok, Thailand -- The deputy abbot of Mettadhamma Buddhist centre in Chiang Mai, whose abbot and conservationist Phra Supoj Suwachana was stabbed savagely to death on Saturday, petitioned the House environment panel yesterday for justice.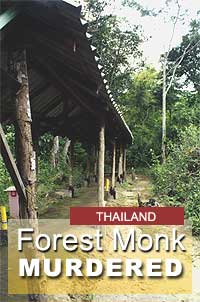 He was adamant the murder was motivated by conflict over illegal use of the centre's forest land.
Police believe Phra Supoj's death was linked either to illegal logging of a 700-rai forest area or to encroachment on the land which has sparked five lawsuits.
Phra Kittisak Kittisophano, deputy abbot of Mettadhamma Buddhist centre in Fang district, told the House committee he witnessed Phra Supoj being threatened about two years ago by out-of-uniform soldiers and close friends of a politician's younger brother.
They were armed and tried to force monks to move off the centre's land.
''Now there are no Buddhist monks at Suan Mettadhamma because of concern for their safety,'' he said. ''So I call on the prime minister and state officials for a swift investigation, since the murder of Phra Supoj was so brutal.
''The monk was a long-time conservationist who moved from Suan Mokkhapalararm in Surat Thani and formed this Buddhist centre and the Mettadhammarak Foundation, which also does environmental work,'' he said.
The centre has about 1,500 rai of land, but uses only about 75 rai as its dhamma practice centre. It gave 800 rai to local people as a community forest and the rest to Maha Chulalongkorn Ratchawitthayalai Buddhist University as a campus.
Influential figures had tried to stop the centre from handing the land to the university.
Members of the House environment committee visited the troubled area. Deputy chairman Premsak Piayura said the centre's land was sought after by people who wanted to set up an orange orchard or a resort.
The MP representing Fang district is Santi Tansuhat of Thai Rak Thai party.
Earlier, a villager close to the murdered abbot, Paiboon Muangsuwan, 59, of Ban Huay Ngu, said he believed Phra Supoj was killed because he had tried to protect the centre's forest land.
People led by a man identified only as Narong had made repeated, violent attempts to force the monk to sell the land. Other groups of influential people, including local politicians and border patrol police, had also tried.
Mr Narong was said to be a former army captain and close aide of Maj Chalermchai Matchaklam, sentenced to death for the 2001 murder of Yasothon governor Preena Leepattanapan.