Chances poor of finding monk's killers
by NAUVARAT SUKSAMRAN & SUBIN KHEUNKAEW, Bangkok Post, July 11 2005
Chiang Mai, Thailand -- The June 18 slaying of activist monk Phra Supoj Suvacano was a loss for pro-democracy movements and a gain for state figures intolerant of dissent as well as influential land encroachers, observers say.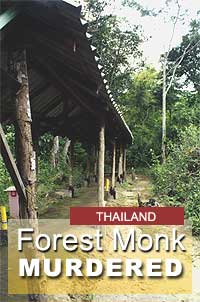 A local source said whatever the motive of the murder, people who stabbed the monk to death at his Mettadhamma Buddhist Centre in Fang district last month killed two birds with one stone.
The source said police would likely conclude that Phra Supoj was killed by a group of angry villagers while the monk was trying to stop them from cutting bamboo grown within the temple compound - an ordinary manslaughter case.
The source said investigators, however, should also find out if Phra Supoj's murder had anything to do with his role in raising public awareness on political and social problems through various communal activities and publications and websites critical of the government, including www.khonnarak.com, www.buddhadasa.org and www.kruamas.org.
One of his popular websites, www.skyd.org, operated by the Sekhiyatham Foundation - a Buddhist group - contained articles of famous thinkers and activists that often presented the government in a negative light.
Phra Kittisak Kittisophano, a leading critic and foundation chairman, said a person from within the inner circle of the government had also warned him that he could meet the same fate if he did not stop attacking the government through the media.
``I was told that I do not have the luxury to believe that my life was completely safe just because I was a monk,'' Phra Kittisak said.
Recognised for his intellectual prowess, Phra Kittisak had spoken out loud against the government's role in the Tak Bai tragedy and its plans to legalise casinos and buy the Liverpool soccer club.
The Sekhiyatham Foundation and the Mettadhamma Buddhist Centre had long fought against social and political injustice with the help of the Assembly of the Poor and a network of watershed and forest conservation organisations.
The monk said his personal record had been examined, and the foundation's activities and the activities of the Metta-dhamma Buddhist Centre were put under close watch. It was more of a ploy to create pressure.
Phra Kittisak is beng tightly guarded around the clock by four plainclothes police officers since the murder of Phra Supoj, a close friend.
``Even a monk is unsafe these days and can't do without police protection. What is happening to this country?'' he said.
The source said analysts believe the murder was meant to strike fear in the hearts of other foundation activists.
``This may at least force the foundation to halt some activities or soften the tone of its criticism in various publications and websites,'' the source said.
Sunee Chairos, a National Human Rights commissioner, however, said disputes over alleged encroachment on a 1,500-rai land plot owned by the religious centre and big-time tangerine growers who were looking to expand their cultivation areas was the likely cause of the killing.
Paiboon Muangsuwan, a tangerine plantation owner close to Phra Supoj, said the land, most of it in a land reform zone, was sold by locals to Phra Singthon Khamsao (or Phra Singthon Narassapo) in 1980, who later donated it to the religious centre.
Only about 100 rai of the land in question had Nor Sor 3 Kor land ownership papers.
``There was over 1,000 rai of land here and many people are after it. That is why we have so many quarrels and encroachment problems.
``Some of the land-hungry people had even tried to drive the monk out through intimidation, firing a gun near his quarters and illegally felling the trees in defiance,'' Mr Paiboon said.
The centre tried to solve the encroachment problem by declaring that about 1,000 rai of the land was part of a community forest, hoping local villagers tapping resources from it would help protect it. ``But the intimidation has not stopped,'' he said.
Influential figures, allegedly owners of large-scale tangerine orchards, offered to help former owners obtain land title deeds so they could re-sell the land at high prices - almost 100,000 baht per rai.
Owners of land in reform zones are awarded Sor Por Kor 4-01 land documents to verify their ownership but are prohibited from selling the land.
Mr Paiboon, however, said tangerine was only suitable for growing on the hillside but the religious centre's land was a vast plain which was once a deserted lychee orchard. If the land conflict was the motive of the murder, the prime suspects should be a group of people who attacked him in 2002, he said.
Another source from a network of northern activists noted that the crime was carefully designed by the masterminds who intended to make local villagers scapegoats.