Discrimination haunts the monkhood
by Paisarn Likhitpreechakul, The Nation, July 11, 2005
Bangkok, Thailand -- Prejudiced interpretation of the Tripitaka, the Buddhist canon, hurt gays, lesbians and transgenders, according to a paper presented yesterday to the first International Conference of Asian Queer Studies.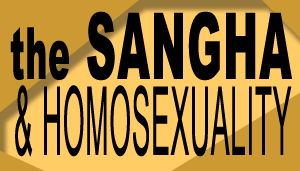 Authored by Phra Woratham, who has been a Buddhist monk for 15 years, and presented by a lay representative, the paper sought to clarify the meaning of the word pandaka, a collective word for a group of people who are prohibited from monkhood by a canonical rule.
Although contemporary interpretations often include gays, lesbians and transgenders, Phra Woratham argued that the word has the exclusive meaning of ?those lacking male or female genitalia? or medical hermaphrodites, and has nothing to do with people who are attracted to those of the same gender.
Last year when the runner-up to the Miss Tiffany title expressed his wish to ordain, there was strong reaction from the public, citing this monastic rule. According to the paper, the rule should not apply, because the person in question was still anatomically male.
The paper also touched on the common belief that one is reborn in this life as gay, lesbian or transgender as a punishment for sins in past lives (karma), particularly adultery.
It pointed out that the same accusation had been brought in the past and present against women as well, reflecting the hetero-male-chauvinistic bias of such beliefs.
?Nowhere does the Buddha say that those attracted to people of the same sex are born thus as a result of sin. Nor does he say so regarding hermaphrodites. All such negative references come from commentaries of later date,? the paper explains.
However, ?punishment? of gays, lesbians and transgenders is real, regardless of the cause of sexual orientation, says the paper, and is the suffering inflicted on them by society in the form of discrimination.
On the other hand, a minority sexual orientation by itself isn?t necessarily a ?punishment?, if one has pride in who one is, the paper says, pointing the way out of the ?sin? label which has long inflicted pain and self-hatred on Thai Buddhist gays, lesbians and transgenders.
The paper attracted criticism from Viroj Tangvanich, well-known president of the Rainbow Sky Association of Thailand, who said: ?There are other ways for Thai gays, lesbians and transgenders to practice Buddhism. Becoming a monk is not the only option. Our religion also has plenty of space for us as lay Buddhists.?
Viroj quoted Phra Buddhadasa, a highly revered monk and Buddhist philosopher, as saying: ?All men and women should understand the way to Buddhahood. Buddhahood is an uplifted spiritual realm that transcends maleness and femaleness.?