Wat Kamala to be ?blitzed?
Phuket Gazette, July 19, 2005
KAMALA, Phuket (Thailand) -- Popular Australian TV gardening program Backyard Blitz is to spring a Buddhist Lent surprise on tsunami-hit Wat Kamala ? in the shape of a newly-landscaped garden. The program specializes in renovating viewers? gardens along themed lines and is a popular Sunday evening show. This is the first time an episode has been recorded overseas.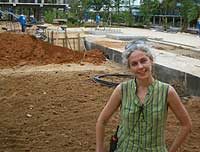 << It doesn?t look like much now, but wait till it?s been blitzed: Jacq Brophy in the grounds of Wat Kamala.
Jacq Brophy, Head of Production, told the Gazette yesterday that the Tourism Authority of Thailand (TAT) in Australia had approached and invited the team to do a 48-hour ?blitz? on a tsunami-ravaged garden in Phuket.
?We came here in May and spent six days reconnoitering. We finally decided on the temple as it is the center of the community.
?It took about six weeks back in Australia to design the garden plans. The abbot was very helpful as he explained the meanings of a lot of Buddhist symbols so we could incorporate them into the overall garden plan.?
The team started work July 18. The project was due for completion within 48 hours, in time for the Buddhist Lent Festival.
Ms Brophy continued, ?We brought a 17-member team from Australia and employed about 60 local workers. As our schedule is tight we work shifts.
?We were a bit worried as the weather seemed threatening and it was very windy yesterday morning, but we?re lucky that it hasn?t broken. It?d be great to surprise everyone by presenting the wat with a new garden on Buddhist Lent day [Asarnha Bucha].?
She said that curious locals had been along to have a peek at the proceedings, but that it was hard to explain the TV program?s concept to them because nothing like it exists in Thailand. She believed, however, that people were happy with what the team was doing.
Ms Brophy explained that the all the plants used in the ?blitz? were bought in Phuket, with some extra materials obtained in Bangkok.
?We supplied some of the budget and the TAT helped out, as well as some Australian sponsors. Qantas Holidays gave us a special package with a direct charter flight from Sydney to Phuket.?
About 200 package-holiday guests will be invited to view the filming session and to attend a post-production party with the crew.
Ms Brophy said, ?On Thursday morning the Australian Ambassador [to Thailand] will travel with his family to Phuket. They will visit us and have a look at what we have done, because he gave his support for a general fundraising project for the temple.?
?The program will be broadcast at 6:30 pm on September 11 on Channel 9 in Australia. Phuket is one of Australians? top 10 travel destinations and I believe the program will help to promote tourism [in Phuket] because we will film many places around the island,? she added.