Monk, temple boys murdered
Bangkok Post, Oct 17, 2005
Militants hack, shoot, burn in daylight raid
Pattani, Thailand -- Local southern leaders yesterday appealed for calm and urged authorities not to take rash action after a monk was hacked to death and two temple boys were killed and their bodies burned yesterday in a raid on a Buddhist temple in Pattani. Elsewhere in the ravaged region, five more people, including two soldiers, were also killed.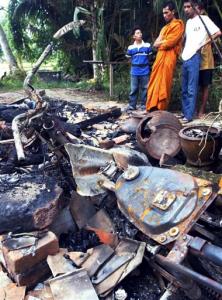 << A Thai monk, center, looks at the ruins of a temple burnt by suspected Muslim separatists in Pattani Province, south of Bangkok, Sunday, Oct. 16, 2005. About 20 suspected Muslim separatists stormed a monastery, hacked an elderly Buddhist monk to death and fatally shot two temple boys Sunday in southern Thailand, police said. Six other people were killed in separate incidents across Thailand's three southernmost provinces, where more than 1,000 people have died in an insurgency that flared early last year. (AP Photo)
Nimu Makaje, deputy chairman of Yala Islamic Committee, believes the temple raiders wanted to provoke a violent reaction from the government.
``State authorities must exercise utmost patience and be calm.
``They should stick to peaceful efforts to win the hearts and minds of local people,'' Mr Nimu said.
Waeuma Waedolloh, kamnan of tambon Tanyong Luloh in Pattani, warned Buddhist and Muslim Thais not to fall into a trap set by the insurgents, who wanted to provoke retaliatory attacks.
He urged them to unite and provide useful information to authorities.
He also cautioned the government against jumping to conclusions that the attack was masterminded by Muslims.
They should wait until an investigation shed light on the case.
``I think those who attacked the temple have no faith in religion at all because they killed the monk and the two teenage temple boys.
``No religion teaches people to kill,'' Mr Waeuma said.
Sirichai Kitticharoen, chairman of the Pattani Chamber of Commerce, said the temple attack was a wake-up call for the government to beef up security at important places in the deep South.
The security boost should apply to holy places of all faiths.
He said some remote temples were not protected well and there may be more attacks on religious places in the future as insurgents were out to stir up mistrust.
Early yesterday, about 15 armed men stormed Wat Phromprasit temple at tambon Ban Nok of Panare district. They attacked four spots in the temple ground. The first was at a single-storey monk's living quarters made of wood.
Two charred bodies belonging to temple boys Harnnarong Kham-on, 17, and Sathaporn Suwanrat, 15, were found inside. Spent shells of automatic rifles were scattered near the bodies.
Police believed the attackers broke into the living quarters and shot the teenagers before setting fire to the bodies. The fire consumed the place.
The second spot was another monk's living quarters where the partially burned body of Phra Phisu Kaew Phanjaphet, 76, was found in a pool of blood.
He had been beaten over the head with a hard object and hacked at with such force that it almost severed his neck. The monk was a native of Panare district.
The fires took an hour to put out.
The third spot was the chapel. Parts of the door panels were torched by the attackers who also vandalised the altar. A statue guarding the entrance was ravaged.
The attackers carried on the rampage outside the chapel, destroying the ponds. They also attempted to burn down the chapel but the fire failed to catch.
Police found a sack and many rounds of cartridges in the field behind the monk's living quarters. What looked like drops of blood were also found around the area.
Eyewitnesses said the 15 attackers finished their killing spree in less than 10 minutes.
A temple boy, Bancha na Soros, and a monk, Phra Charoen Prathumthes, managed to escape the attackers.
Phrakru Thammathornnipol Chokako, abbot of Wat Thung Khoi in Mae Laen district of Pattani and a member of the National Reconciliation Commission (NRC), called on the government to bring the offenders to justice as quickly as possible.
Five other people, two of them soldiers, were shot dead yesterday in Yala and Narathiwat.
In Yala, two soldiers identified only as Pol Sgt-Maj Samrerng and Pol L/Cpl Nitipong were ambushed as they were riding their motorcycle back from patrol at Maikaen railway station in Raman district. They died on the spot.
The attackers strew spikes along the road to prevent police pursuit.
Earlier in Bannang Sata district, a village defence volunteer, Mahama Ureh, 40, was killed by gunmen on a motorcycle.
He was setting off from his house in tambon Tanoh Puteh on his way to work when his assailants stopped him and shot him. He died in hospital.
Yesterday afternoon, two men, Santi Puyprom, 40, and Suk Thepkamnerd, 54, were riding their motorcycle on Narathiwat-Tak Bai road in Tak Bai district when two men on a motorcycle came up from behind and shot them dead.