Sri Lanka and Thailand celebrates 50th anniversary of establishing diplomatic ties
Asiantribune.com, November 26, 2005
Bangkok, Thailand -- Sri Lanka and Thailand have begun celebrating their 50th anniversary of establishing formal diplomatic relations. Though the two countries have had close religious, cultural, political and trade relationships for over a thousand years the formal diplomatic links were established only on 20 November 1955.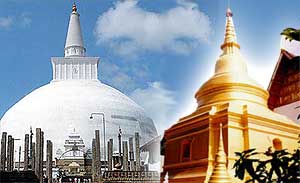 To celebrate this diplomatic milestone a series of events have been organized by the Foreign Ministries and Embassies in the two countries.
The binding common denominator of the two countries is Buddhism. According to tradition, missionaries from Sri Lanka brought Buddhism to ancient Nakhon Pathom where Thailand's first Buddhist temple was built over more ancient Hindu holy places. Later, Sri Lankan kings brought missionaries from Thailand to reform the sangha in Sri Lanka.
Trade ties between Sri Lanka and Thailand too has grown rapidly. Currently it amounts to 15 billion Sri Lankan rupees (about Bt6 billion or US$147 million) . Trade ties will be further strengthened by the signing of a bilateral PTA agreement . There are prospects of these ties leading to a FTA.
Thailand's Ministry of Foreign Affairs has republished a book, "Kalyanamitr: A Religious and Cultural Ties between Sri Lanka and Thailand", by Thakur Phanit, former Thai ambassador to Colombo to mark this anniversary,
Thai-Sri Lankan relations are "profoundly related in Theravada Buddhism for more than two millenia," according to Thailand's Foreign Minister Dr. Kantathi Suphamongkhon.
The Thai Embassy in Sri Lanka will celebrate this event on Tuesday with an official reception with the Foreign Minister as the guest of honor.
A Thai Food Festival coupled with Thai Cultural Performance which began at the Hotel Hilton yesterday will be held until December 04. A Seminar on Thai - Sri Lanka relations will also be held early next year.
The Sri Lanka Embassy in Thailand is arranging several events such as co-hosting celebrations with a food and dance festival, a Sri Lanka Day at Chulalangkorn University, a dance recital at Siam Society and a Seminar on Thai-Sri Lanka relations at Chulalangkorn University in Bangkok.