Lotus products have promising growth both locally and overseas
TNA, Feb 10, 2006
BANGKOK, Thailand -- Lotus is one kind of popular plants whose products have a room to expand in both local and export markets, according to the Kasikorn Research Center.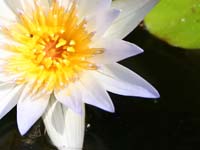 The leading think tank said Buddhists prepared to participate in religious rites on the Makabusha Day (Buddhist All Saint's Day), which falls on February 13 this year.
A survey found the lotus is the most popular flower used for merit making by Buddhist at religious rites.
Total sales of lotus flowers would increase significantly on the Makabusha Day and other key religious days, resulting in local demand for the products rising regularly.
Beside its flower, several parts of the lotus plant including leaf, trunk, seed, and root could be sold both locally and overseas.
The demand for parts of the lotus plant overseas is expected to increase following a research on propriety of the parts for medicine.
Annual exports of lotus products total around 10 million. Although the exports are not considerable, they are expected to increase continuously. So, Thailand has a room to expand the market.
Currently, China is the world's largest exporter of lotus products while Vietnam and Australia are becoming remarkable competitors.
KRC said most lotus plants grown in Thailand are sacred lotus, which is a native plant variety in the Southeast Asia.
The local lotus plantation area covers around 5,000 rais nationwide.
Provinces where lotus plants are grown for flower harvesting include Bangkok, Nonthaburi, Nakhon Pathom, Supanburi, Ubon Ratchathani, Khon Kaen, Pichit, Payao, Nakhon Sawan, Pitsanulok, and Pattalung.
Those where lotus plants are grown for seed yielding including Chieng Rai and Yasothorn.