Thailand: Religious TV ads make an impact
BY FOO YEE PENG, The Sunday Star, November 21, 2004
Bangkok, Thailand -- A SERIES of TV commercials on a book called Palang Chiwit (Power for Living) that has stirred up much talk among Thais will soon be taken off the air after a month of screening. The advertisements feature five well-known faces in Thailand testifying how God has made a difference in their lives.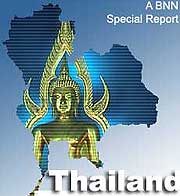 Before each 30-second spot ends, a toll-free number would appear for viewers to call if they want a free copy of the book.
Response has been so overwhelming that 600,000 copies have been given away and a reprint is on the way. All in, 1.1 million copies of the book, written 10 years ago by an American pastor, would have been distributed.
One of the reasons for the huge public attention must surely be the celebrities who lent their faces for the commercials.
They are singer-composer Boyd Kosiyabong, model/TV host Sasithon Wattanakul, former singer Anchalee Jongkakeekij, Kobchai Chirathivat, CEO of a large purchasing company, and billiards champion Prapruti Chaithanasakul.
?All of them are Christians and they did not get paid to do the commercials,? said Nimitz Modrakee, president of 124 Communications which is the PR consultant for the project.
To prove their point, the celebrities have declined interviews to avoid talk that they are publicity-seekers.
Nimitz said his company was approached by the US-based Arthur S. DeMoss Foundation to design the ads several months ago.
?The foundation doesn?t accept donations. Neither do they offer anything for sale. It is a legitimate set-up,? he said, adding that his company accepted a minimal fee for the work done.
It is learnt that the overall cost for the commercials came up to Bt64mil.
This could be the first time that such advertisements have made a huge public impact in Thailand, a predominantly Buddhist country where Christians form a mere 0.5% of the population.
Nimitz, a Buddhist himself, saw nothing wrong in the advertisements.
?This is a free country. In any case, no one did anything that went against the Constitution,? he said.
He is right, and that is why the authorities declared earlier that they were not banning the advertisements.
Even Christian groups here have acknowledged that the contents of the book did not divert from the faith although the governing body seemed unsettled that the commercials were done without its knowledge.
Still, the campaign sparked off an interesting debate with some people questioning whether it was appropriate to buy airtime to push a belief, be it religion or political ideology.
Others worry that religious cults would copy the idea.
The commercials barely upset the Buddhists, judging by the comments made. Many felt that this was a signal for them to look at their own faith and review their ?marketing strategy?, so to speak.
?Buddhists are gradually moving away from genuine moral principles and turning to materialism,? Religious Affairs Department director Preecha Kantiya was quoted as saying.
?One important reason is that our religious campaigns are obsolete and ineffective.?
Manager, a Thai daily, reported that the National Buddhist Bureau decided at a meeting a fortnight ago that there must be a re-look on the ways Buddhism was being practised and there should be some regulation on how monks behaved in public.
However, there must be a framework to oversee such religious advertisements, the bureau said.
Whan Mavichar, a 27-year-old Buddhist, felt that the advertisements had been a great success in view of the big splash they made.
?I often hear people talking about it,? she said, ?although the timing of the commercials was perhaps not so good, coming at a time when the southern Thailand conflict was still raging.?
But, generally, Thai Buddhists have been tolerant over the commercials.