Famous Thai monk ordains hundred to monkhood
by Nai Chan Mon, IMNA, March 2, 2006
Bangkok, Thailand -- Phara Uttama a famous Mon monk in Thailand and the head of the monastic association ordained about hundred men to monk hood to spread Buddhism on his 96 th birthday ceremony.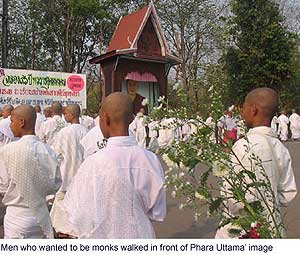 Phara Uttama, a Mon monk who has been spreading Buddhism for many decades in Thailand ordained a hundred villagers in Wangka village, Sanghklaburi, where his temple is based even though he was under treatment in a hospital in Bangkok .
About a thousand villagers from Wangka walked from the centre of the village to the temple in traditional dresses and carried the prescribed articles for use by the monk such as bowls, lower garments and robes.
The families of the people keen on monk hood; villagers and monks in the temple were offered food and donations for two days.
"On his birthday, he donates to every body who wants to be a monk earlier villager who wanted to be monks did it separately. But now for two years villagers join in on the donation," said Phara Jorndimar, a senior monk in Phara Uttama's Wat Vi-Vay-Karam temple.
Phara Uttama sponsored most people ordained as monks separately in the past year. Since last year villagers wanted to work together and the idea was implemented.
"It is our tradition and is similar to that of Mons in Burma such as in Kawsite and Khayart village in Karen state," the senior monk explained.
Phara Uttama founded the Wangka village more than 30 years ago. Most people moved from Burma . Recently about 2000 of them were given Thai citizenship. The village is known for its Mon culture and it still maintains Mon traditions.
Phara Uttama is famous for making and giving amulets and quite a few Thai Generals and army officers respect him. He has helped Nai Shwe Kyin, the New Mon State Party founder in founding the party.