Santi Asoke to camp out until Thai premier quits
ThaiDay, March 6, 2006
Bangkok, Thailand -- In the aftermath of last night's march to Democracy Monument and Government House, ardent members of the Santi Asoke Buddhist sect were all that remained at Sanam Luang this morning, where they have vowed to stay until the caretaker prime minister steps down.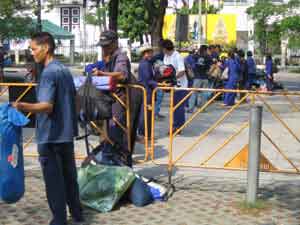 About 1,500 monks, nuns and blue-shirted members of the sect's Dharma Army attended a lengthy sermon this morning by the sect's senior monk. Others read newspapers, ate breakfast and washed their clothes while last night's heavy police presence had dwindled to a few hundred officers.
Many of the sects members were recovering from last night's march, sleeping wherever there was shade, in tents or even underneath the trucks and buses parked on the edge of Sanam Luang.
A sleepy-looking Maj-Gen Chamlong Srimuang, the sect's most high-profile member, sat in the back of a minivan eating breakfast. He refuses to negotiate a truce with Thaksin and says he will not give up his campaign to oust him.
Last night's protests drew more than 100,000 people from all walks of life, many in defiance of Thaksin's rousing Friday night rally, which drew some 150,000 people.
Senators, academics and media freedom campaigners turned up the heat on their criticism of Caretaker Prime Minister Thaksin Shinawatra last night, saying he was refusing to quit because he feared his assets would be seized.
The crowd marched en masse to Democracy Monument, where they were met by a heavy police presence. Police slowed the pace of the march, which went on to Government House, where the rally continued into the night.