The Bhikkhu who does battle
STORY BY VASANA CHINVARAKORN, MAIN PHOTO BY YINGYONG UN-ANONGRAK, Bangkok Post, June 22, 2006
On his birthday last year, one of his closest friends, a fellow monk and conservationist, was brutally murdered. But Phra Kittisak Kittisophano remains undaunted; his fight to bring justice back to Thailand's judicial system continues regardless
Bangkok, Thailand -- A constant companion of his, a book that he usually carries around in his bag is Dhammapada, a collection of verse by the Lord Buddha offering words of wisdom appropriate for many different occasions.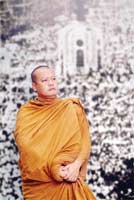 << One of Thailand's few critical clerics, Phra Kittisak Kittisophano has been challenging the powers-that-be over issues he considers are exploitations of the grassroot people.
It's a slim folio, translated from Pali into Thai and English by Buddhist scholar Sathienpong Wannapok, and Phra Kittisak Kittisophano has read and re-read it countless times, always finding some invaluable teaching between its covers.
He says the book is as meaningful to him now as it was when he first set eyes on it over two decades ago and that the text often serves to remind him of what his duties are as a monk; this passage, for instance:
"He who is controlled in hand and foot,
He who is controlled in speech and body,
He who is with inward joy and settled mind,
He who is solitarily controlled -
Such a one they call a bhikkhu"
- verse 362.
To keen observers of Thai politics over the last few years, the name Phra Kittisak probably conjures up the atypical image of a man in saffron garb who dares to criticise the powers-that-be. His name figures prominently on the shortlist of "regular" critics of caretaker prime minister Thaksin Shinawatra and the local media has coined the term "NGO monk" to describe the unorthodox form of social activism in which he and a handful of like-minded people have been engaged.
When it comes to campaigning against injustice, abuse of the underprivileged and anything deemed unrighteous, Phra Kittisak will often be spotted in the vanguard. When villagers from Isan or the South protest against large-scale development projects that have severely disrupted their way of life, this cleric and his Sekiyadharma network of socially engaged monks are usually there to give them moral support. As US troops were about to descend on Iraq three years ago, Phra Kittisak joined scores of peace activists of different faiths in conducting a series of candle-lit vigils in front of the US embassy in Bangkok.
Following the brutal "Tak Bai incident" in October, 2004 when scores of southern Muslims suffocated en route to detention in a military camp, Phra Kittisak did not mince his words vis-a-vis the inept, violent tactics adopted by the state authorities. When PM Thaksin proposed the decriminalisation of gambling, and the spending of a huge amount of taxpayers' money on buying an English soccer club, the monk quickly pointed out that the ruling elite was succumbing to greed. Similarly, the government's systemic suppression of media critical of its activities was quickly denounced; how could a leader claiming familiarity with the tenets of Buddhism display such a lack of tolerance of dissenting views and such a naked desire to cling to power, the monk asked.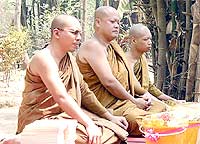 In their heydays, the trio monks-in-residence of >>
Suan Mettha Dharma in Fang, Chiang Mai, produced a prolific amount of work on their reformist mentor Buddhadasa Bhikkhu. From left, Phra Supoj Suwacano, Phra Kittisak and Phra Cherdchai Kawiwangso. — Photo courtesy of THE METTHA DHARMA RAKSA GROUP
Earlier this year, Phra Kittisak and representatives of Islam and Christianity took the podium at a mass demonstration against the prime minister on Ratchadamnoen Avenue. All three analysed the morally dubious nature of the present regime from their respective religious viewpoints.
Phra Kittisak's version of Buddhism is not that of religious recluse on retreat, his eyes closed to what is happening in the world around him, nor does he hold with the unquestioning performance of rituals. For this middle-aged monk Buddhism is all about serving society while pursuing spiritual liberation, regardless of conventional labels.
"Personally I would have loved to practise [dharma] and do social work rather than get involved in politics," he once told an interviewer. "On some levels, this task [of pushing for political reform] does affect me. When the mind is not guarded, it is liable to be perturbed by circumstances. If I don't practise [dharma] enough, I could inadvertently get hung up with it.
"As a rule, I try not to criticise at the personal level. But in Khun Thaksin's case, that is impossible. The man just happens to be part and parcel of the entire system, the prevalent system of Thaksinocracy."
In a way, politics seems to have always been an integral part of Phra Kittisak's life, too, even before he entered the monkhood. As a student, he was exposed to a stream of leftist thoughts. The youngster might not have been old enough to join the historic street protests here in the '70s, but his search for an ideal society led him to study socialist literature - and to feel a sense of comradeship with the "youths in the jungle".
"It put some pressure on my father, who was then a government official," he recalled with a smile. "He was even recruited to the ISOC [Internal Security Operation Command] anti-communist campaigns, while knowing that his own son had a lot of banned books at home."
After graduation, the young man worked for three years at the Agriculture and Agricultural Cooperatives Bank. He found it a total bore, his job consisting mostly of "getting farmers to buy fertiliser or tractors".
Soon enough the ever-active Kittisak became a close aide to parliamentary representatives for Phatthalung, the southern province where he had grown up. At that time politics seemed very grand to him, offering the promise that an individual could push for change and make the world a better place. Looking back on that period now, Phra Kittisak describes his younger self as being "naive". The politicians' real concerns were about expanding their power base, making sure they'd get elected to the corridors of power again and again, he says.
It was also a time of easy money for him - and exuberant indulgence of luxury. He drank a lot, smoked heavily, went out partying at night, and had a series of girlfriends. Interestingly, given his current position as head of a nationwide campaign to turn temples into nicotine-free zones, Phra Kittisak said he kicked the habit on his ordination day. He recalls how, three months later, he was still able to smell cigarettes on his breath whenever he coughed.
Then, at the age of 30, he abruptly turned his back on the secular world.
His last temporal duty was to help candidates from his party contest the general election of September, 1992 held in the wake of the political turmoil of Black May that year.
"My life as a layman was a cycle of extremism. I thought I was chasing after happiness. I hung around at places I liked. I listened to my taste in music, then I went home, slept, and the following morning, the cycle repeated itself again.
"When I had a girlfriend, I searched for perfection. I couldn't find the dream woman, nor, I realised, could I be the ideal partner either. In times of anger, the sense of self-centredness would come out.
"But now I have this shaved head and these saffron robes to constantly keep myself mindful."
It was the beginning of a new search, on a different plane of being. During his first year in the temple, the young monk slowly came to understand that a traditional monastic education had very little to offer him.
"I realised that if I stayed there any longer, I'd either have to leave the monkhood or else become exactly like them [the other monks]. Unfortunately, the present Sangha [brotherhood of Thai Buddhist monks] lacks the space for new generations of monks to cultivate knowledge to keep up with the world and use dharma to fit the new situations."
So what kept him in the monkhood? During a forest pilgrimage he undertook with two fellow clerics, Phra Kittisak was moved by the tremendous "faith" that rural folks displayed in their treatment of monks - a faith that he firmly believed could be put to better uses. He therefore decided to seek more rigorous training at Wat Suan Mokkh, the forest monastery set up in Chaiya, Surat Thani by Buddhist reformer Buddhadasa bhikkhu.
The five years he spent there was a period of deep personal transformation, a time when he cemented some valuable new friendships. Despite his junior status as a monk, Phra Kittisak quickly gained recognition for his skills as a leader and public speaker. He became actively involved in a couple of socially engaged Buddhist networks.
"Before, I couldn't see the overall picture of Buddhism; there were so many different tenets to learn," he said in another interview. "But Santikaro [a close aide to Buddhadasa] and Phra Phaisan [Visalo] helped me to realise that I didn't need to study everything. I just had to know what the heart of Buddhism was and then put that into practice."
On another occasion, he praised Buddhist layman scholar Sulak Sivaraksa as one of the few individuals who could wisely "keep Buddhism as a relevant guide for society and link up with the international community".
It was also at Suan Mokkh that Phra Kittisak met like-minded monks and co-founded the Buddhadasa Study Group. Together, they pooled their skills and interests and tried to apply the reformist monk's teachings to a modern context. In late 1998, they accepted an offer by Sulak and another patron to relocate to the valleys of Fang in Chiang Mai.
Despite its physical limitations, they initially regarded their new abode, to which they gave the name Suan Mettha Dharma (garden of compassion and dharma), as a paradise. They were able to work outside the hierarchical clerical structure, do away with daily rituals and concentrate instead on research into Buddhadasa's works and how to make them more appealing to the public. Phra Kittisak noted how there was a perfect division of labour among the three monks-in-residence: Himself, the late Phra Supoj Suwacano and Phra Cherdchai Kawiwangso.
"We were able to do what would have required twice or three times the number of staff to do. Phra Cherdchai is an expert on Buddhadasa's writings. I took care of thinking up potential issues, and Phra Supoj did all the art work.
"It was a perfect balance of personalities, too. Phra Supoj was a very gentle, peaceful person. Some even wondered how he was able to live with me."
The fruit of this collaboration was a prolific series of books and periodicals, in both print and Internet versions. Although the original plan to turn Suan Metta Dharma into an alternative university open to adherents of all religions did not transpire, the trio strove to maintain the place as a sanctuary in the midst of the commercial tangerine plantations which were springing up in the locality.
Conflicts soon arose, however. Phra Kittisak said that rich and influential figures with ties to state officials and politicians had long been eyeing the valuable real estate occupied by Suan Metta Dharma. There were attempts to encroach on the land, to commit arson and theft. Death threats became common, but, until June 17 of last year, the monks were still optimistic that the saffron robe would protect them from harm.
It didn't. On that fateful day, Phra Supoj stayed alone at the forest hermitage working on a web site for a spiritual discussion group. Phra Kittisak was marking his birthday with colleagues in Bangkok. In retrospect, he remembers thinking it odd that some of the content on their group's web site hadn't been updated. The following morning, the phone rang with some tragic news: Phra Supoj had been found stabbed to death.
A year later, he still finds it uncomfortable to reflect that his birthday falls on the same day as that on which one of his best friends was murdered. He says he still wonders every now and then whether in fact he was the cause, whether the attack was really directed at him.
After all, Phra Supoj's death meant that many of the activities at Suan Metta Dharma had to be halted, or postponed for several months.
The lack of security prompted the two remaining monks to spend more time away from the disputed area. In the process Phra Kittisak said he "learned" a lot about the deplorable aspects of Thailand's judicial system.
"I found that the system was much worse than I'd thought. We have taken [Phra Supoj's] case to petition many different state agencies - Parliament, the police, the Ministry of Justice, the National Human Rights Commission, and so on.
"The thought of leaving the monkhood popped up every now and then when I felt discouraged, especially in the wake of Phra Supoj's murder. But I didn't want to make his death a waste."
Thus the on-going demands for the authorities to re-investigate the case alongside that of the murders of human-rights defenders, notably environmental campaigner Charoen Wat-aksorn and "disappeared" lawyer Somchai Neelapaichit. Despite the differences in their backgrounds, the families of the three victims have come to realise that they share a common plight: For ordinary citizens of this country, justice is slow to come. And there is even more official foot-dragging when the victim is someone who has dared to challenge the authority of the state.
But the 13-odd years he has spent in the monkhood have helped Phra Kittisak survive the scorching fires of this life. He says it's like taking a series of tests in which one must contemplate, but not let oneself be drowned by, continual waves of suffering. And help other sentient beings as much as possible in between these trials. Such, he said, is the way of life of a bhikkhu.