Thailand: Living in a culture that fosters coups
by Sanitsuda Ekachai, Bangkok Post, Sept 28, 2006
Bangkok, Thailand -- I had my first taste of a military coup when I was two, when strongman Sarit Thanarat toppled the fascist Pibul regime. Shortly after that my father and a score of his journalist friends were sent to jail just because they had been to China on a press trip. And also because the US-backed junta wanted to impress its big brother that they were serious about the commies. A lot has happened since then, leading many of us to believe coups had become obsolete in our country. That has proven to be a false hope.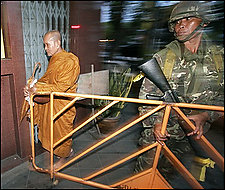 My 10-year-old daughter witnessed her first coup on Sept 19. My worry is that it won't be her last. And that the next one might not be bloodless like her first.
Like anything else we do, coup-making is a habit-forming act. Buddhism calls it vasana, meaning habitual tendency or the power of habit. If you allow yourself to do certain things often enough, then you are creating a momentum for the same thing to happen again, and again. The only solution is to break the habit.
Buddhism also believes in the law of cause and effect. That the Sept 19 coup was a bloodless one resulted from the interplay of many factors and events that went on behind the scenes. In the future, however, when some crucial factors are missing, there is no guarantee that blood won't spill in the power struggle between the conservative military and the greedy cronies of corporate globalisation. And given Thaksin Shinawatra's own vasana, his habitual tendency to hold fast to power, his inability to accept defeat and his willingness to take risks to win all, plus his immense wealth and shrewd use of communications technology to create public opinion and political agenda _ one should not scratch his name out from Thai politics too quickly yet.
So what should we do? Maybe we should ask ourselves seriously why it is our vasana to end up either with a military junta or with greedy politicians.
To mitigate the coup's negative impact and to prevent the return of Mr Thaksin, various civic groups are calling for a quick return of civil liberties and people's input in the drafting of the new Constitution.
Fine. But we can't get out of the vicious cycle of money politics and coups in the long run if we don't look into our culture that glorifies money and might, and try to do something about it.
For culture is not an island. It is the result of our inequitable social and political structure that forces the have-nots to depend on the haves for favour and protection. If the locals have control and access to their resources that include land, natural resources, education, media, self-governance and budgeting, then there is a chance to weaken the patron-client system and vote-buying that is the heart of money politics.
If we want to foster a democratic culture and weaken society's preference for the use of force, we need to look at our inherently violent culture that includes social inequity, contempt for the poor, indifference to the plight of those who are not one of us, and our heartless support for the state's siphoning of rural resources to spur our urban comfort.
As parents, we also need to question our authoritarian child-rearing and our schools' militaristic culture and discipline.
For if we still believe it is right to use force to keep our kids in line and if we still think it is just fun to dress up our child in military fatigues and have him pose in front of a tank with a toy rifle, then we can rest assured that our vasana for violence will remain as strong, and this won't be the last time we see the tanks rolling out into the streets.
----------------------------
Sanitsuda Ekachai is Assistant Editor, Bangkok Post.