Buddhists flee from Southern Thailand
by Charoon Thongnual, The Nation, Nov 10, 2006
Fleeing villagers seek refuge in wat of nearby district, fearing attacks by militants
Yala, South Thailand -- Nearly 100 Buddhists from three villages in Yala's Than To and Bannang Sata districts have fled their homes and sought refuge at a temple in a nearby district amid growing fears of more insurgent violence, officials said.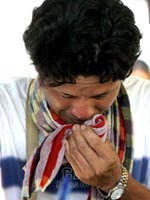 << Yala villager Thongchai Iamnirand, 36, weeps as he recounts an insurgent attack that killed his wife and her father. He is among almost 100 Buddhists who have fled their homes to seek refuge at a local temple after they were threatened by the attackers.
They left late on Wednesday evening amid rumours that suspected militants were planning to attack their homes, said Phongsak Ying-chomcharoen, chairman of Yala municipality.
Fear and suspicion in the two districts are rife after militants killed two locals, Boon Iamsa-ard, 68, and his daughter Aree Iamnirand, 28, on November 5, before burning down their house.
Aree's husband, Thongchai, was unable to hold back his tears as he gave his account to provincial officers about the November 5 incident that ended the lives of his wife and father-in-law.
The villagers are currently staying in the compound of Nirotsangkha-ram Temple in Yala's Muang district. Most of them came with whatever they could carry and are currently dependent on the generosity of the temple for food.
The Office of HM the Queen dispatched personnel and sacks of relief supplies to help ease the burden of the families.
The villagers appeared uncertain as to what the future holds as they stared aimlessly around the vast temple grounds, which they said will be their home for the time being.
Violence in the three southernmost provinces have displaced a number of Buddhist residents over the past three years but the Wednesday exodus was the first of its kind in which an entire community packed its belongings and fled.
In September 2005, at least 131 Muslim families from Narathiwat had also fled to northern Malaysia where they are currently residing in a government compound. The incident led to a diplomatic fallout between Thailand and Malaysia, especially after the latter permitted the UN refugee agency to interview the displaced villagers.
Local residents said the violence has restricted their travel and activities, and taken a tremendous toll on their livelihood.
Wednesday night's exodus marks a setback for the government's policy of reconciliation as none of Prime Minister Surayud Chulanont's goodwill gestures have been reciprocated by the militants who have been accused by authorities of being behind the daily violence in the three Malay-speaking southernmost provinces.
Attacks on soldiers, as well as civilian targets, continue unabated and the government is hard pressed to come up with a quick solution for a problem that many analysts say could take a generation to resolve.