Monks to stop morning alms rounds
Bangkok Post, Nov 12, 2006
Violent attacks fan fears among Buddhists
Narathiwat, Thailand -- Monks in Narathiwat will stop leaving their temples to receive alms in the mornings from tomorrow, as insurgents have stepped up violent attacks to further fan fears among Buddhists in the deep South. Leading monks in the southernmost province met at Wat Prachum Cholthara in Sungai Padi district yesterday before announcing their joint decision.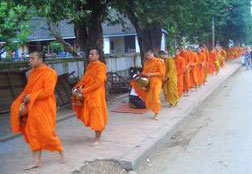 << Violent attacks fan fears among Buddhists
Escalating violence, especially against monks, Buddhist sympathisers and other innocent victims was a prime concern. The monks in all 13 districts of Narathiwat said they would stop morning alms-taking trips indefinitely until the situation returns to normal.
The monks will hold talks with Sangha representatives, the police and military authorities in Narathiwat to find measures to curb the violence, said Phra Thepsilavisut, the provincial Sangha head.
The monks' decision came as more villagers in neighbouring Yala province fled their homes to take shelter at a temple compound to escape threats from insurgents. Yala authorities' latest count found that 176 people from 53 houses were staying at Wat Nitorsangkharam in Muang district yesterday.
They came from Santi 1 and Bang Lang villages in Bannang Sata district and Santi 1, Chulabhorn 7 and Chulabhorn 9 villages in Than To district. All vowed not to go back to their villages and demanded the government find them new jobs and assistance outside the three provinces of Yala, Pattani and Narathiwat.
Three of them will be granted an audience with His Royal Highness Crown Prince Maha Vajiralongkorn tomorrow.
Somporn Krainara, one of the representatives, said she would convey the troubles of the fleeing villagers to him during the audience.
A security source in the area said government forces have been repositioned to protect two more villages, Ban Chalong Chai 3 and Phakdi 4, in Bannang Sata following intelligence reports that they could be new targets for insurgents.
Insurgent suspects yesterday killed four people and carried out arson and bomb attacks in the three southernmost provinces. In Yala's Yaha district, two border patrol police officers were shot dead while riding a motorcycle along a road, police said.
Pol Senior Sgt-Maj Srijan Aiyawan, 59, and Pol Sgt-Maj Prasert Pidam, 35, who worked as security guards at a school in tambon Patae, were gunned down by at least four men on motorcycles. The group also stole their guns before escaping.
In Pattani's Sai Buri district, farmer Jemudor Phma, 48, was shot by two gunmen near a mosque in tambon Troh Bon on his way home, police said.
He was admitted to a hospital in the district, but succumbed to his wounds. Sai Buri police are investigating.
In Narathiwat's Rueso district, an assistant to a village head was shot by two men and died at hospital, police said. Saari Yuso, 59, was gunned down as he was riding a motorcycle from his house in Ban Koksator village.
Police believed the killers were members of a rebel group because Saari served as a government informant.In tambon Rueso, a house for teachers of Ban Ya Ba Uoopakarn Witaya School was set ablaze yesterday by an insurgent group, police said.
However, no one was in the house at the time and the building was partly damaged.
In Bacho district, a bomb blast caused minor injuries to two soldiers, police said. They were among seven soldiers patrolling the area. The police said the bomb was hidden in grass and was detonated by mobile phone.