Temple faces challenge of helping more HIV/AIDS patients
by APIRADEE TREERUTKUARKUL, Bangkok Post, Dec 1, 2006
Shelter supplies food, medication for over 500 people with disease
Lop Buri, Thailand -- Groups of emaciated HIV/Aids patients at Lop Buri's Wat Phra Baht Nam Phu will soon be a thing of the past. Instead, the country's hospice for severe Aids patients is now having to cope with an increasing number of people saved by anti-retroviral treatment but who still fall victim to the social stigma associated with the disease.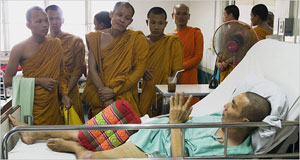 << Buddhist monks from the Thai capital, Bangkok, visiting AIDS patients at the Phra Baht Nam Phu Temple in Lop Buri, 75 miles north of Bangkok (File Pic)
Unlike in the past, when 85% of patients were sent to the remote Buddhist temple to die, most of them now are treated and stay alive.
But this reversed trend is giving the temple more problems than ever.
''The dead don't eat but the living do. That's why more people living with HIV/Aids at the temple means a mounting burden that we have to deal with,'' said Phra Khru Alongkot Dikkapanyo, the abbot who has run the shelter for serious HIV/Aids patients in the central province's Muang district for 15 years.
''But we can't tell them to leave. They have nowhere else to go.''
In the past the temple took care of hundreds of patients in serious conditions and cremated them when they died according to religious rites.
However, the temple currently has to supply food and medication for more than 500 people living with HIV/Aids.
These people are surviving by continuously taking anti-Aids medicine. The overall expenditure is costly _ about three million baht each month, he said.
Over the past year, the government has introduced GPO-vir, a locally-made anti-retroviral treatment which costs about 1,200 to 1,500 baht a month.
Thai people living with HIV/Aids mainly depend on this generic version of the anti-Aids drug. The Government Pharmaceutical Organisation has distributed the medicine free of charge to nearly 80,000 HIV-positive people under the universal healthcare scheme.
As a result, HIV-positive people have had access to the medicine without having to pay huge medical bills.
However, the fact that healthy people with HIV/Aids are crowding the temple reflects the stigma deeply rooted in society, despite the success in providing access to treatment.
''Although people living with HIV/Aids could live longer with medical treatment and are not strongly discriminated against like in the past, they still lack the job opportunities necessary for a return to normal living,'' the abbot said.
He considered it a ''failure'' of both the temple and the government.
Patients were medically treated so they could live longer, but they ended up struggling to integrate themselves into society because of discrimination, especially in the workplace.
Most of the healthy HIV-positive people at the hospice have their CVs and medical reports made up so employers will not know that they are HIV-positive.
However, less than 3% of them could seek work and the rest had to run their own businesses, mostly small shops, he said.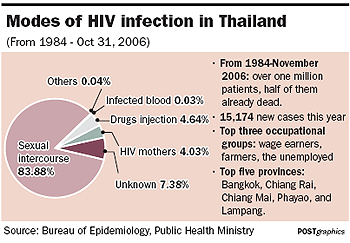 The abbot believes that the government should do more to overcome discrimination in the workplace in a bid to improve the quality of life for people living with HIV/Aids.
''Just producing low-cost anti-Aids medicine is not enough. Acceptance in the workplace and from colleagues is also required for HIV-positive people, so they will have a good quality of life and the burden of HIV will ultimately be reduced,'' he said.
Apart from the social stigma, Aids prevention campaigns seemed to be overlooked compared to the last two decades, when the epidemic hit the country hard, he said, adding that people coming to the temple for treatment tended to be younger. ''Thailand is facing a gruesome situation of Aids becoming widespread, since the virus is shifting its target from sex workers to teenagers, who are our future,'' he said.
Mechai Viravaidya, founder of the Population and Community Development Association, has also continuously raised concerns over the weak prevention campaigns.
Figures have apparently begun to climb again as tackling the illness has become a lower priority for the government.
Known as Mr Condom for his successful family planning and Aids prevention campaigns through the promotion of condom use in the 1990s, he urged the government to review anti-Aids campaigns and sex education, which should also target teenagers, married women and young adults, since they are at risk of contracting HIV/Aids from their sexual partners.
The World Health Organisation also noted that the effect of past campaigns is waning, whereas high-risk behaviour is increasing. HIV prevalence among men having sex with men in urban areas is as high as 28%.
There are about 500,000 HIV-infected people in Thailand, around 200,000 to 300,000 in a serious condition who need to receive anti-retroviral drugs.Passakorn Akrasevi of the Aids, Tuberculosis and Sexually-Transmitted Infections Bureau accepted that the country was facing a budgetary balancing act between treatment programmes and prevention campaigns. More than two billion baht was set aside for treatment funds alone, whereas less than 10 million baht was earmarked for prevention campaigns.
''The budget for prevention efforts is upside down. Without understanding that Aids is everyone's responsibility and immediate action from top policy makers, we may expect to see an increase in infections and much more difficult Aids challenges in the near future,'' he said.