Plans afoot to revive pledge to Buddhism
The Nation, Dec 1, 2006
Bangkok, Thailand -- Deputy Interior Minister Banyat Chansena yesterday proposed that all Buddhist children formally pledge their allegiance to Buddhism when they are eight years old - a tradition adopted during the reign of King Rama VI.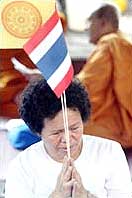 He said the idea was part of a long-term government plan to promote morality among Thai youth. The practice would encourage Thai people to observe Buddhist teachings more closely and appreciate Dharma earlier.
Banyat said a large number of Thai people entered temples only once - for their own funerals. He said the practice should not be considered a coercive measure, as other major world religions required their believers to undergo affirmation rituals.
The government plan also proposed a "Prototype Temples" project that would encourage abbots and monks to improve their spiritual public services and act as centres of their communities. The three-year project would begin in January and involve 5,500 temples and around 550,000 Buddhists. PM's Office Minister Khunying Dhipavadee Meksawan said she agreed with Banyat's proposal and the project but would think again about the latter issue and decide whether she would raise it in the Cabinet meeting on Tuesday.
Famed Buddhist scholar Sathienphong Wannapok praised the proposal, saying it should help with the teaching of morals in schools across the country.
He also proposed allowing Buddhist nuns to vote, saying that
more than 200,000 women "of good quality" were being prevented from participating in helping to develop the country.
He said the Buddhist sacrament rituals were adopted widely during the reign of King Rama VI but had lost ground. Moral teaching should still be provided during high school and university years, he suggested.
Phra Thamma Kosajarn, abbot of Mahachulalongkornrajavidyalaya University, called on Buddhists to participate in the "Prototype Temples" project, which he said should be continued beyond the proposed three-year period.