Buddhist Monk Embraces Condoms
OhmyNews, Feb 7, 2007
The Venerable Phrakru Wichian has a pragmatic attitude to HIV prevention Masimba Biriwasha (simplebiri)
Chiang Mai, Thailand -- Venerable Phrakru Wichian, head of the Buddhist Monks Network of Northern Thailand, was very shocked when he discovered that a fellow monk at his monastery was HIV positive. Instead of simply throwing out the infected monk, Wichian turned to the finer teachings of his religion and found a way to cope with the situation, including realizing that condoms were integral to HIV prevention.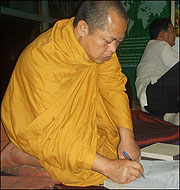 << Venerable Phrakru Wichian, head of Buddhist Monks Network of Northern Thailand
©2007 Masimba Biriwasha
"We could not chase the monk away from the monastery. After all, he had been infected before he became a monk," said Wichian. "We had to find a way to help him. Spiritual support is important for people living with HIV."
As a result of his experience, Wichian established a program to help community members to cope with the negative impact of HIV/AIDS.
"When I started doing this work, in 1995, there was very little acceptance of the disease in the community; but this has changed," said Wichian.
Wichian said that the ultimate aim of his mission is to get community members to apply spiritual knowledge in a contemplative manner so that they can better respond to the disease.
Religion is usually the last frontline that provides security and spiritual guidance to help both individuals and communities to deal with disasters and problems such as HIV and AIDS.
Thailand's Chiang Mai city is serviced by close to 300 Buddhist temples, 4,000 monks, 3,000 novice monks, and 1,000 temple boys. There is no doubt that religious leaders play an important role in local people's lives, giving emotional support and serving as teachers, healers and counselors.
"Nowadays just preaching to the community does not work especially in the presence of a crisis. Even when we preach Dharma, the people do not respond," said Wichian. "We try to get people to visit the temple more often so that they can receive help. When I visit people living with HIV/AIDS, I try to encourage them to practice the precepts of Buddhism."
"Many people lack the ability to engage in meditative practices. And because they cannot contemplate, they therefore lack genuine wisdom. We teach people to practice the Dharma," he said. "Just listening is not enough, you have to practice. In our groups, we emphasize the moral and ethical dimensions that can help people to both prevent and cope with disease."
Buddhist institutions have, however, not always found it easy to respond effectively to the sex and sexuality issues surrounding HIV and AIDS.
Oftentimes, fundamentalism and dogmatic perspectives prevents monks from making the right decisions that may save adherents' lives in the face of the HIV/AIDS epidemic. It also prevents religious leaders from acting upon scientifically based methods that can help to halt HIV infection, such as condoms.
While religious leaders often promote tolerance and compassion towards HIV- positive people, there is clearly a failure to address the area of prevention. The issue of condom use has caused much controversy within many religions.
However, Wichian said that he supported condom use because modern life has a lot of risk.
"I think it is necessary to use condoms, especially among HIV positive people. HIV positive people get married so condoms have to be used to avoid re-infection," said the monk. "Also, I tell people to carry condoms because sex can be accidental. There are moral concerns but I think a condom can be used. However, some religious leaders have a negative attitude toward me, but I maintain that it's necessary to carry a condom on certain occasions."
Wichian also said he was deeply disturbed by high rates of HIV-infection among women, especially married women.
"Housewives who behave well still get infected, and that has made me to change my attitude to condom use. Since we cannot find an alternative it's better for people to use condoms," said the monk.