Stampede Over Amulet Kills Thai Woman
By SUTIN WANNABOVORN, Associated Press Writer, April 9, 2007
BANGKOK, Thailand -- A crowd of thousands waiting to buy purportedly magical amulets erupted into a stampede that killed one woman and injured dozens Monday, police said.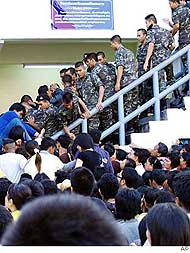 << A crowd of Thais fight their way to the stairs at a school auditorium as they compete to buy amulets in Nakhon Si Thammarat province, southern Thailand Monday, April 9, 2007. A 50-year-old woman was killed and dozens of people injured when the crowd stampeded during a sale of a popular talisman supposed to bring good fortune, police said. Associated Press photo
More than 10,000 people had camped overnight outside a school to buy the Jatukam Ramathep amulets, which have gained a huge following in recent months for what are believed to be their magical qualities.
The 50-year-old woman was trampled when the crowd rushed the school gates Monday morning, said police Lt. Suriyon Kaemthong, a police lieutenant in Nakhon Si Thammarat province, 360 miles south of Bangkok.
Many Thais carry or wear amulets for good luck. The amulets usually show images associated with Buddhism — the religion of most Thais — though amulets are not formally part of its doctrine. There is a large collectors' market, and rare amulets reportedly command prices of more than $30,000.
The Jatukam Ramathep amulets are round, ranging in size from a penny to a silver dollar, and come in a variety of colors, including bronze, silver and clay.
They're named after a Brahmin deity, the skilled warrior prince of an ancient Southern Thai kingdom who is depicted on the amulet in a seated position. People believe the amulet can bring good luck, and protect them from evil and violent attacks including gunshots and knife wounds.
The phenomenon of the Jatukam amulet started spreading nationwide when its original creator, a highly respected police official, died at 104 last year.
Police Maj. Gen. Khunphantarak Rajadej was believed to possess knowledge of the occult, and more than 200,000 people attended his funeral two months ago.
Police ordered a halt to distribution of the amulets after the woman died, said Suriyon.