Buddhists end constitution rally
TNA, May 8, 2007
Bangkok, Thailand -- Demonstrators who have been rallying in front of Parliament for two weeks to demand that the new constitution recognise Buddhism as the state religion on Monday announced they would end their marathon protest.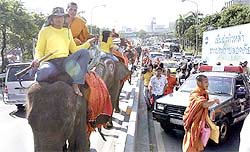 << Monks rally for Buddhism to be national religion of Thailand - FilePic
They claimed they had been infiltrated by unnamed "ill-intentioned persons" for political gains, and would continue to protest by other means.
Gen Thongchai Kuasakul, a core leader of the Buddhist Network of Thailand, said demonstrators, including Buddhist monks and laypersons, would end their protest at Parliament.
However, members of the Buddhist activist network would continue to pressure the Constitution Drafting Assembly to intervene during the scrutiny process of the rewritten Constitution to declare Buddhism in a clause of the charter as national religion, he said.
Thanking Gen Sonthi Boonyaratkalin, chairman of the Council for National Security and also army chief, for his support on the issue, Gen Thongchai said he wanted Prime Minister Gen Surayud Chulanont to also openly support on recognising the faith as the national religion in the charter.
Meanwhile, Charan Pakdithanakul, deputy chairman of the draft charter committee, told journalists that his committee was finding a solution which could be acceptable to those pro and against on the issue.
However, Mr Charan said he personally believed the new charter should not as yet specify Buddhism as national religion because it might aggravate conflicts with people worshipping other religions in the country. It is, therefore, necessary for every party concerned to seek a common solution.
The demonstrators earlier vowed that to rally there until their religious demands had been met.
A senior monk earlier explained that those concerned about the status of Buddhism, including those drafting the charter, may have confused the declaration of Buddhism as national religion with the official recognition of Buddhism.
Not only Buddhism but also all other religions in Thailand have already been recognised by the authorities, he noted.