Hundreds of Buddhist monks to spend Buddhist Lent in violence-wrecked southern Thailand
The Associated Press, July 25, 2007
BANGKOK, Thailand -- Hundreds of yellow-robed Buddhist monks arrived in Muslim-dominated southern Thailand on Wednesday at the start of Buddhist Lent in the hope their presence will promote peace in the insurgency-wracked region.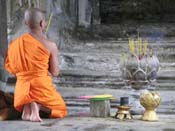 Buddhist Lent — a three-month period — marks the beginning of the rainy season in Thailand, a time when villagers present offerings of food and flowers to monks who must remain on temple grounds. The age-old practice is traditionally to prevent them from trampling new plants and insects.
"The 346 monks will spend this time in various temples in the area to boost morale among the Buddhist population there and to bring a message of peace to a place torn apart by the insurgency," said Air Force Commander Chalit Pukbhasuk who saw the monks off from Bangkok.
The monks traveled by air force plane to the south and will be spending their time at temples in Yala, Pattani and Narathiwat, Thailand's three southernmost provinces where 2,300 have been killed since an Islamic insurgency flared in January 2004.
Bombings and drive-by shootings are a near-daily occurrence in the region, and while initially Buddhists were the main targets, Muslims are also coming under attack.
Authorities will provide security for the monks with 24-hour patrolling of temple grounds and surrounding areas, said army spokesman Col. Akara Thiprote.
Last year, Buddhist monks in Narathiwat halted their alms-seeking rituals after coming under fire, and some Buddhist temples became military barracks and heavily guarded fortresses.
However, military authorities said Buddhist monks have become less of a target in recent months.
"The assailants seem to have been targeting more strategically, attacking security authorities more ... there are fewer attacks on symbolic targets like Buddhist monks and public school teachers," said Akara.
He also said that recent arrests of suspected insurgents have limited the area of attacks and restored confidence among minority Buddhists in the area.
Up to 10 percent of Thailand's 65 million people are Muslims, most of whom live in the three southern provinces where they are a majority. Muslims have long complained they are treated as second-class citizens in predominantly Buddhist Thailand.