Queen Sirikit wants Buddhist monks to bring peace to hurting south
by Weena Kowitwanij, AsiaNews, July 31, 2007
Queen's plan includes 347 Buddhist monks who have decided to move into hundreds of temples abandoned in southern Thailand as a result of violence perpetrated by Islamic separatists. Their goal is to bring peace and solidarity to a population affected by years of death and civil war.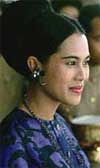 Bangkok, Thailand -- Thailand's Queen Sikirit wants to reopen abandoned Buddhist monasteries and temples in the country's southern provinces. For years the area has suffered from the violence between the military and local Islamic separatists. For this purpose she called on Buddhist monks to go south and live in the empty monasteries during the three three-month Buddhist Lent (starting July 30) which coincides with the rainy season, a time when monks normally do not travel.
So far 347 monks have heeded her appeal and have moved into 266 temples that had been abandoned because Islamic separatists had targeted them as symbols of Thailand's Buddhist majority.
In Yala province 43 temples were destroyed this year alone. In Pattani 81 suffered a similar fate as did seven monasteries. In Narathiwat 71 temples and 16 monasteries endured the same.
In many other locations monks have been able to travel asking for alms only under police or army escort to deter and prevent suicide attacks.
Somdej Phrayannasungwom Sakolmahasungkaparinayok, Thailand's supreme Buddhist patriarch, urged the faithful to "give alms, observe [Buddhism's] five precepts, listen to sermons, and pray." He added that if people are understanding and have mercy "society will be full of happiness and peace."
Phra Phibhithammasoontorn, rector of Soontornprachatham Temple in Pattani, said that with the "Queen's encouragement more than 300 monks volunteered to stay in the temples of the three southern provinces where violence has occurred for years. Let me remind each Buddhist believer that they ought to express at least one good intention during Buddhist Lent this year so as to start changing for a better life."
Phra Somchai Kitiwuthto is among the volunteers making the trip; his destination: Narathiwas Temple. "Spreading the teachings of the Buddha and encouraging the faith," he said, "are part of the mission of a Buddhist monk. Violence is not an answer to our problems. Dhamma (or Dharma, i.e. the Buddha's teachings) must help bring solidarity among all Thais."
Thailand's population stands at 62.8 million, 95 per cent of which is Buddhist. Another 4 per cent is Muslim, but concentrated in the southernmost provinces.
Rebel groups have been fighting for their secession. Since 2004 about 2,200 people have died in the ensuing clashes.