King on science, Buddhism
by Nakhorn Pathom, The Nation, Aug 3, 2007
Bangkok, Thailand -- HRH Princess Maha Chakri Sirindhorn yesterday praised His Majesty the King for being a good role model by applying science and Buddhism to help his subjects.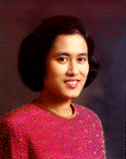 << Her Royal Highness Princess Maha Chakri Sirindhorn
She suggested the younger generation apply the principles of Brahmavihara Dhamma in their lives.
The princess presided over the opening of an international conference on "Buddhism and Science" at Mahidol University's College of Religious Studies yesterday. A total of 256 monks and laymen from nine countries are taking part in this three-day event in celebration of the King's 80th birthday in December.
She told participants that the conference was appropriate and would help the public understand that science and Buddhism were forces that supported one another and could go together, said the college's director Associate Professor Pinit Ratanakul.
The King applies both Buddhism and science in helping people via projects, especially the virtue of metta (desire for the welfare and happiness of others), in tackling his subjects' woes, Pinit quoted her as saying.
Both are important to the study of human mentality and bring inner peace and mental health in the face of a modern lifestyle full of chaos and change, the princess was quoted as saying.
She suggested young people apply the Brahmavihara Dhamma principles of metta, karuna (compassion), mudhita (altruistic joy) and ubekha (mental balance) and expressed satisfaction that the conference also included meditation sessions, according to Pinit.
Alan Wallace, director of the Institute for Consciousness Studies in California, told the audience that while Buddhism emphasised experiences more than reasoning, it also focused on reasoning more than superstition and was thus more similar to science than other religions and philosophies.
As Buddhism has all the features of a religion focusing on virtue, balance and spiritual freedom, it can be a link between science and religion, he said.
Wallace said many people believed Buddhism and science could not go together because Buddhism was about mind and meditation, along with complicated issues written in ancient books.
Many temples, he said, are like museums where people go to take pictures but do not apply the teachings in their modern lives.
If Buddhism could be explained in scientific terms, making it closer to people's lives, the younger generation would appreciate the value of Buddhism even more, he said.
He urged monks to be open-minded in applying science and technology to explain religious principles.