'Chak Phra' or 'Pulling of the Buddhist monks' ceremony in Krabi & Phuket
ThaisNews, October 29, 2007
Phuket, Thailand -- During the weekend, many Thai employees took leave from work and some visitors might have seen the special cultural events called Chak Phra going on along some local roads in southern Thailand.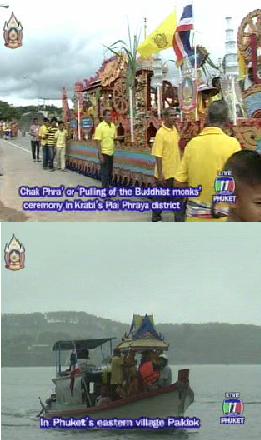 People gathered with an intention to do their best for a religious ceremony and it came out very well on Saturday.
Like other provinces in Southern Thailand, Buddhists in the Plai Phraya district of Krabi joined in the religious and cultural event to commemorate the end of Buddhist Lent period or otherwise known as 'Ok Pansa'. It falls on the full moon day of the 11th lunar month.
There is a Buddhist myth that during the Buddhist lent or "Khao Phansa" Lord Buddha went to heaven to deliver a sermon to his mother who died after giving birth to him and was reborn in heaven. The sermon given was said to last for the entire period of the Rains Retreat.
Upon completing his mission in heaven, Lord Buddha then returned to earth and was greeted by a crowd of his disciples and followers
In the early morning, Buddhists gathered to offer alms to monks and then they performed the Chak Phra which literally means "pulling of the Buddhist monks". They put up a Buddha image and invited Buddhist monks on decorated vehicles or floats and pulled them along the road to gather at one place where people can make merit, believed to bring good luck and prosperous life for them.
In Plai Phraya 8 floats were decorated with the help of local villagers and local artists who spent at least a month in preparation for such impressive floats.
The district chief Suriyon Charung-Kiatkul proudly explained that this is an annual religious and cultural event which the authority steps in to support and promote as it means keeping cultural heritage alive and that it perfectly reflects community ties among residents.
It was not only on land that the festival was performed, as in Phuket's small eastern village of Paklok local villagers gathered to perform on both land floats and waterway barges.
Here on Saturday despite the rain, villagers carried a sacred and ancient Buddha image on to a floating barge at Ao Por pier and the float carrying the Buddha image was towed along the river so that people can worship and make merit as the majority of the population here in the old days relied on fisheries. They later came up to shore where the ritual ceremony was performed.
On the Ok Pansa Day Thai families normally have their members wear new clothes and are happy by making merit and food offering.
After the Ok Pansa Day comes the Kathin festival or the annual robe offering ceremony to follow Buddhist practice.