Thailand: Better care for the dying
by PICHAYA SVASTI, Photo by YINGYONG UN-ANONGRAK, The Bangkok Post, Jan 10, 2008
A number of hospitals around Thailand are finding ways to improve their palliative care services
Bangkok, Thailand -- A quiet, dying boy who does nothing but read comics reveals his fear of death through an art programme. An old monk dies peacefully in hospital with his family saying prayers at his bedside. A man dying of cancer finds peace by listening to a taped Buddhist sermon.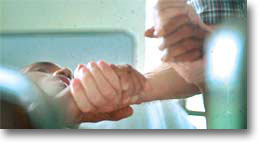 The above are all examples of the benefits of specialised palliative care that is now being provided in some Thai hospitals.
Palliative care comprises efforts to improve the quality of life of patients and their families who are facing life-threatening illnesses. Controlling pain and other distressing symptoms of disease and managing psychological, social and spiritual concerns are considered paramount in palliative care.
''Over 10 hospitals in Thailand now provide [specialised] palliative care in a style of their own. More provincial and community hospitals are interested in doing likewise,'' said Asst Prof Dr Phornlert Chatrkaw, an anaesthesiologist [correct] who is a member of a palliative care committee at Chulalongkorn Hospital.
According to Dr Phornlert, local hospitals that provide outstanding palliative care include Prince of Songkla[correct spelling] Hospital in Songkhla and Mae Sot Hospital in Tak.
Palliative care has the potential to be developed in Thailand to match Thai ways of thinking, he added. and is responding well to the increasing elderly population
According to Dr Phornlert, Chulalongkorn Hospital staff have informally practiced specialised palliative care for more than 20 years, but only in the last five years has it become part of official hospital practice. This specialised care includes the relaxing of some rules for dying patients and their families, such as allowing overnight bedside vigils. Also, the hospital now provides specialised palliative care training for its staff on topics that range from ''How to speak with dying patients'' to ''Nursing for the dying'' and ''Art therapy''.
For patients who want to die at home, Chulalongkorn Hospital now attempts to fulfil their wish, said Dr Phornlert.
''Most patients want to go home but there are some limitations. If their symptoms are under control with medication, we will encourage them to go home and will coach their families about good care,'' he explained.
For over 10 years now Chulalongkorn Hospital has been running a project to improve the palliative care it provides to both adults and children. Unlike previously, when doctors would simply inform families of a patient's condition, doctors now meet with families to discuss what's best for the patient.
If a patient is someone who prays, their family is given the means to do so at the bedside. Other requests, such as recordings of luk thung songs, military marches, Chinese operas or stories, are also catered to.
Dr Phornlert added that chronically ill patients can also be coached in gentle exercise such as qigong and have meals with their families. They can pray with and give alms to monks from Wat Pathumwanaram and Wat Hua Lamphong, who make visits to the hospital. They can also invite priests to visit them at the bedside.
For chronically ill children, the hospital provides art therapy and some school lessons.
Phetladda Seungjitsiriroj, co-ordinator of the Phuttika Buddhist Network's volunteer programme for dying patients, said the network and Chulalongkorn Hospital initiated a pioneer project to improve the palliative care given to young patients in late 2006, one of the results of which is art therapy.
In the art therapy sessions, children are encouraged to paint freely, using brushes or their bare hands. Some homesick youngsters paint a happy family, said Phetladda, adding that children find it easier to communicate and relax through painting and colouring
Pornthip Maithong, a nurse at Chulalongkorn Hospital's Sor Kor 16 Samun Ward, which takes care of critically ill children with diseases such as brain cancer, leukaemia or kidney disease, said art therapy is fun and uplifting and helps children communicate important messages.
''One child created a black painting with ghosts popping out everywhere. It reflected his terrible fear, which until then was unknown to us, since he reads comics all the time,'' she recalled.
After seeing the painting, hospital staff placed a Buddha statue near his bed and gave the boy books of prayers. Since then, Pornthip said he has stopped reading comics and taken to reading the prayer books and is now in better spirits.
Since 2001, the ward has provided cots so mothers can sleep overnight at the child's bedside as well as arranged accommodation near the hospital where families can stay, said the nurse.
On the fourth Tuesday of each month group support meetings are held for patients' relatives, she added.
Under a project called Dharma in the Ward, taped prayers are played in the Sor Kor 16 Samun Ward at 8pm every night.
''Children near the end of life will pray together and embrace each other. We will cheer them up,'' Pornthip said. ''Some know they must return to 'Neverland'. Some ask for more prayers. Prayers help calm struggling patients.''
Every Thursday, the ward is visited by Buddhist monks who preach to the children, bless them and accept alms from them, she added.
Currently, Phuttika Buddhist Network is running a pilot project to train volunteers to assist and comfort critically ill and dying patients at Chulalongkorn Hospital.
Other Bangkok hospitals to offer specialised forms of palliative care include Phramongkutklao, Siriraj and Priest hospitals. Major Sirapich Pattarathammaporn, a nurse at Phramongkutklao Hospital's gynaecological ward, is proud of the ward's Keb Tawan Room, which opened in 1998 to provide a place for cancer patients and their families to rest and relax.
''There is a resting zone, a food and snack corner and even sofas [to make visitors comfortable]so patients won't feel lonely. Dying patients need their families so much,'' she said.
As around 65 per cent of women admitted to the gynaecological ward have cancer, the ward has initiated peer counselling, group support, informative lectures, cooking classes and art workshops that are available to all cancer patients at Phramongkutklao.
At Siriraj Hospital, Jamrak Lampavej, a nurse in the cancer ward, said the hospital has undertaken 33 palliative care initiatives including a ''Project for Suffering Relief for Terminal Cancer Patients''. According to Jamrak, this programme aims at alleviating pains, sufferings and complications to allow patients to leave this world peacefully. As part of its palliative care programme, Siriraj Hospital gathers information from patients and relatives about the patient's wants and needs. Its staff have been trained in counselling and can co-ordinate discussions on treatment between doctors and families. The hospital also provides for religious rituals.
Relatives can be close to dying patients, hold their hands, tell them to have faith in virtues and rest in peace. They can be with the bodies of their loved ones for 15-30 minutes before the post-mortem process starts.
At Priest Hospital, which caters exclusively to monks, one addition to palliative care services is taped Buddhist teachings played to the dying, a volunteer said.
Outside Bangkok, Mae Sot Hospital in Tak is considered to provide outstanding care to critically ill and dying patients. Its staff include a body of palliative care nurses and palliative care patients generally fill around 25 per cent of the hospital's 100 beds.
Dr Rojanasak Thongkhamcharoen, who has promoted palliative care at Mae Sot Hospital, said his team focuses on good communication with patients and relatives and having medical staff maintain positive attitudes. The hospital also arranges to check on patients who have gone home to die.
Wanna Jarusomboon, manager of the Phuttika Buddhist Network's ''Meeting Death with a Peaceful Heart'' project, noted that the families of patients who want to die at home will still need professional help.
''Good dying does not necessarily occur in hospital. People can die peacefully anywhere, amid those who have done their best with love, kindness and equanimity,'' she said.
The Meeting Death with a Peaceful Heart Project is a three-day-two-night workshop that has been held monthly since 2004. It is open to the dying, relatives of the dying or anyone who wants advice on how to prepare for death.
Participants in the workshop actually rehearse the moment they are going to die. At the imagined moment, they talk about their worries and seek to let go of all their cares, sorrows and affections. The goal is to achieve a calm state of mind.
The workshop's regular speaker, Phra Paisan Visalo of Wat Pasukato in Chaiyaphum, discusses the needs of the dying based on Buddhist teachings.
According the monk, the dying need love, compassion and help to prepare for death, to concentrate on goodness and to let go of all worries and ''selfness''. They also need opportunities to forgive, be forgiven and bid farewell.
The dying should be allowed to leave this world in a calm atmosphere amid their loved ones. Phra Paisan says.
''Doctors and patients' families generally focus on physical help, not spiritual help. Therefore, they support the use of medical technologies to lengthen lives. They should care about spiritual qualities if it is past the point of saving someone's life,'' he writes in his book Helping Dying Patients the Buddhist Way.
An example of such practice is that of Poj Kristraiwan and his siblings, who decided to fulfil their dying father's wish and take him out of the intensive care unit at a private hospital. Poj overheard a doctor saying that his family was strange for letting their father die without attempting to revive him. A few hours later, Poj's father passed away peacefully with his family around him.
''It is about a diversity of beliefs and ways to treat the ailing. There is also another aspect in which we [the families of the dying] can search for wisdom, express feelings and doubts and understand the meaning of death [through the deaths of our loved ones],'' Poj said.
-----------------
The Phuttika Buddhist Network has produced several books, videos and CDs on how to prepare for death. For more information, visit www.budnet.info/ or call 02-866-2721/2.