Love makes the world go round
The Nation, February 21, 2008
Why is Makha Bucha Day the "Buddhist Day of Love"?
Bangkok, Thailand -- Love is a force in the human heart that is so influential it creates various contradicting emotions such as happiness, sorrow, gladness, depression, passiveness and eagerness. Some poets say love makes the world go round, turns a bad man into a good person and that love is a great inspiration.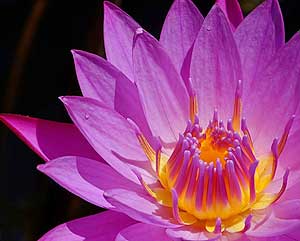 However, love is not just limited to romantic love between men and women but covers the love of parents for their children, teachers for their students, friends for friends and one to mankind and other creatures of the earth.
With love that has a wider meaning and boundaries, it is what makes all humans in all nations, languages and races try and co-exist in peace.
Many people regard Makha Bucha Day, which is a Buddhist holiday, as the "Day of Love" because this day commemorates a special phenomenon called Jaturongkhasannibat. On the auspicious 15th full moon day in the third lunar month after Lord Buddha had attained enlightenment for nine months, 1,250 disciples - all were Arahants and admitted to the monkhood by the Buddha himself - had gathered at the Buddha's Veruvan Monastery by coincidence.
It was also the day that Lord Buddha announced the fundamental teaching namely Owat Patimok to the assembly, a declaration of Dhamma principles and practices of Buddhism. Its core idea was for humans to lead a life of virtue doing all kinds of goodness, to refrain from all kinds of wickedness, and to purify one's mind by observing the precepts and meditation in order to reach enlightenment. This means that Lord Buddha taught all to have a great love, a non-selfish kind of love and was full of mercy to one's fellow beings.
Thus on Makha Bucha Day 2008, the Culture Ministry's Office of the National Culture Commission has invited everyone to celebrate the "Buddhist Day of Love" by following Lord Buddha's steps of giving love and mercy to oneself, one's family and people around them, as well as to all of one's fellow human beings.
If people do all kinds of good - physically, verbally and mentally - all societies of the world would be in peace and the world would bloom with pure love.
---------------
The article was written by Amornrat Thepkampanart, from the Office of the National Culture Commission's Public Relations Division.