Thai temple fights off encroaching tide as world sea levels rise
AFP, March 30, 2008
Bangkok, Thailand -- Crabs scuttle across the wet floor of the near-deserted Khun Samut temple, the only building left in a Thai village that has disappeared beneath the rising and advancing sea.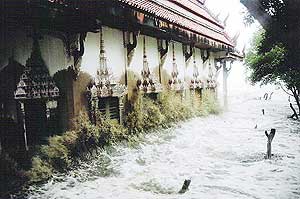 << An undated hand out photo from Khun Samut temple shows waves attacking the temple in Khun Samut Chin village, suburban Bangkok. Crabs scuttle across the wet floor of the near-deserted Khun Samut temple, the only building left in a Thai village that has disappeared beneath the rising and advancing sea.
Waging a battle against an encroaching tide that has sent all the villagers fleeing inland, a monk in orange robes and faded tattoos meant to ward off evil spirits stalks the newly-built sea wall, planting mangrove shoots.
Somnuek Atipanya points 20 metres (65 feet) out to sea, where electricity pylons poke out of the water, now useful only for resting marine birds.
"The waves attacked here and they will destroy everything," says Somnuek, chief abbot of this Buddhist temple south of Bangkok which is surrounded by water and accessible only by a concrete walkway.
"I don't know what happened, but when the experts came they told me it was global warning and melting ice in the North Pole."
Over 30 years, the sea around Khun Samut Chin village has engulfed more than one kilometre (0.6 miles) of land, World Bank figures show, mostly because fishermen have cut down mangrove forests -- the Earth's natural sea barrier.
Tourism development, sand mining and damming rivers upstream have also taken their toll in an area naturally prone to coastal erosion.
The community have realised their errors and are trying to replant the mangroves, but the situation may soon be out of their hands as global warming sends sea levels rising and powerful storms lashing the coast.
"The process has been occurring over some time and accelerating with land use changes and local human activity," says Jitendra Shah, the World Bank's environmental coordinator in Thailand.
"Climate change impacts are likely to accelerate the pace and make things worse in the future."
Coastal erosion of varying degrees affects 21 percent of Thailand's coastline, says Greenpeace climate campaigner Tara Buakamsri, citing figures from Bangkok's Chulalongkorn University.
Along the Gulf of Thailand, seaside areas seriously affected by erosion are receding at a rate of five to 20 metres per year.
Climate scientists say that as global warming heats the Earth up, glaciers and polar ice caps will melt and sea waters will expand, sending oceans rising by at least 18 centimetres (7.2 inches), or possibly a great deal more by 2100.
World sea levels rose 3.1 millimetres per year from 1993 to 2003, the Nobel-winning Intergovernmental Panel on Climate Change (IPCC) says.
This is not good news for the five monks who remain at Khun Samut temple. Despite their best efforts, they may not be able to save the site from the same fate that befell Khun Samut Chin's sunken school and homes.
Visanu Kengsamut, 26, has already moved three times in his life, while his mother -- the village chief -- has fled the crumbling coast and rebuilt her home eight times, and each time the village has paid for its own relocation.
Khun Samut Chin now sits about one kilometre inland from the temple.
"We know that the cause of this is the effects of global warming," says Visanu.
"This problem, everybody should take responsibility and the government should help. If possible, the international community should come to help because they started the problem."
As the world tries to work out a new pact to battle the threat posed by global warming, poorer countries -- who the IPCC says will suffer the most from climate change -- are battling to have their voices heard.
They argue that because the industrialised world was historically most responsible for global warming, they should contribute generously to a fund to help poor countries adapt to the changing world.
The so-called adaptation and mitigation fund will likely be discussed at key United Nations climate change talks in Bangkok from March 31 to April 4.
"Whether or not it is a small contribution or major contribution related to climate change in the past, this community needs to be taken into account when they discuss about the mitigation measure or adaptation fund," says Greenpeace's Tara.
"Because they are facing the impact -- they are one of the first groups in Thailand that is facing the impact."