Thailand plans to ban alcohol sales during Buddhist religious holidays
Pattaya Daily News, April 19, 2008
BANGKOK, Thailand -- Thailand's Ministry of Health is preparing legislation to ban the sale of alcoholic beverages during Buddhist religious holidays, a senior ministry official said Saturday.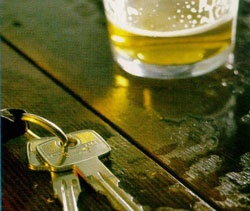 Dr. Samarn Futrakul, who heads the ministry's tobacco and alcohol consumption control group, said there is already a law prohibiting the sale of alcohol during elections, but not on Buddhist religious holidays.
Currently, restaurants, bars and entertainment venues are asked to "cooperate" with state officials by not selling intoxicating beverages on Buddhist religious holidays, he said.
Dr. Samarn said that in hos opinion it is necessary to issue such a regulation. His remarks were made after Interior Minister Chalerm Yoobamrung proposed that sales of alcohol should be prohibited during Songkran, Thailand's traditional New Year, and during New Year's celebrations according to the western calendar.
During the "seven dangerous days" of this year's Songkran, which ended Thursday, 368 persons were killed in motor accidents throughout Thailand and nearly 5,000 were injured. Driving while under the influence of alcohol was identified as the major cause of accidents.
Meanwhile, about 80 persons, members of a "Don't Drive when Drunk" group, as well as accident victims, met Mr. Chalerm Friday to offer support for his idea.
The group said it would launch publicity on the need to forbid the sale of alcohol during festivals and to also hold a public referendum to implement the idea.
Mr. Chalerm said he had asked the permanent secretary for the interior to present the proposal to Public Health Minister Chaiya Sasomsup's committee, saying that he would further sales of beer, wine, and hard liquor as much as two days before and two days after the Songkran festival.
Alternatively, he said, the number of hours selling alcohol during the festival could also be shortened.