Thailand: Merit-makers turn out in force
Bangkok Post, July 18, 2008
Bangkok, Thailand -- Locals and tourists rush to give alms to monks riding elephants at a special event marking Asarnha Bucha Day in Surin province yesterday.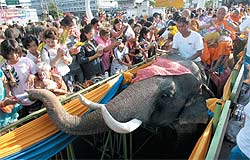 The rising cost of living did not prevent Buddhists from making merit and attending religious ceremonies in their home provinces on the Asarnha Bucha and Buddhist Lent holidays, which started yesterday.
But police in many provinces have beefed up security at temples to stop pickpockets and thefts, which have become rampant since the economic slowdown.
Monks and novices at Wat Tha Luang in Phichit's Muang district have teamed up with police to safeguard the temple compound during religious ceremonies. They are concerned about the cash donation boxes and valuable artifacts.
Phra Metheethampanat, the secretary to the abbot, said the temple was under close guard because with petrol and consumer prices rising, some unscrupulous people still tried to commit crimes on religious days at the temple, he said.
A large brass incense container was recently stolen from the temple's viharn, or main chapel, he added.
In Nakhon Ratchasima, the two provincial bus terminals were packed with people returning to their homes to celebrate the four-day religious holiday.
Transport official Anusorn Witoorakorn said more than 150 buses were kept in reserve, apart from the 309 buses in service.
Mechanics were also on standby around the clock to work on the buses.
In Ayutthaya, thousands of Buddhists descended on temples across the province, from Wat Yai Chaimongkol to Wat Putthaisawan, to make merit and mark the two important religious days.
Ayutthaya MP Kuekul Danchaiwichit said the merit-making trips to nine auspicious temples was a big draw for visitors despite the economic slowdown, and there were high expectations that more than 20 million baht in revenue would flow in during the four days.
In Tak, Burmese immigrants in Mae Sot district yesterday held a grand religious ceremony to make merit for the victims of Cyclone Nargis in Burma.