Death and rebirth for paying customers of Thai temple
By Seth Mydans, IHT, September 29, 2008
NAKHON NAYOK, Thailand -- It is the ultimate in second chances: A Buddhist temple here offers, for a small fee, an opportunity to die, rise up again newborn and make a fresh start in life.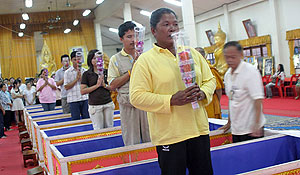 << People standing in prayer after emerging from coffins at Wat Prommanee. Some people have performed the ritual several times. (Seth Mydans/International Herald Tribune)
Nine big, pink coffins dominate the grand hall of the temple, and every day hundreds of people take their turns climbing in for a few moments as monks chant a dirge. Then, at a command, the visitors clamber out again cleansed - they believe - of the past.
It is a renewal for our times, as recent economic hardship brings uncertainty and people try seeking a bailout on life. In growing numbers, they come here from around Thailand to join what has become an assembly line of resurrection.
"When the economy is down, we latch our hopes onto some supernatural power," said Ekachai Uekrongtham, the writer-director whose movie "The Coffin" is in Thai cinemas with a plot that revolves around such funerals for the living.
"When I went in I felt warm, and when I came out I felt released," said Nual Chaichamni, 52, a masseuse who visited recently and who said she liked the feeling so much that she had done it six times.
"As I lay there and listened to the chanting of the monks, I felt relaxed," she said. "When I got up, I was thinking of good things, thinking of the Buddha image in the hall. I felt good."
Buddhism in Thailand can take strange forms, embracing animist superstition, magical practices - and the entrepreneurial spirit of many senior monks. Many Thais say that the true spirit of Buddhism is being lost.
Many temples have become centers of enterprise that parallel Thailand's economic growth over the past few decades, selling good-luck amulets, holding boisterous fairs and telling fortunes.
This temple, Wat Prommanee, 106 kilometers, or 66 miles, northeast of Bangkok, has offered its unusual daily resurrection service for more than three years, and its clientele keeps growing, said an attendant, Pradap Butcharerm, 69.
On weekends as many as 700 people a day pay 180 baht each, a little more than $5, for the ceremony and much more for amulets that are auctioned off by temple acolytes.
"We have only 50 of these, a limited edition, the price is up to you!" they cry. "Twenty baht, 50 baht, did I hear 300 baht? Someone has run into luck." As the number of visitors has grown, their dip into the supernatural has become more perfunctory; now a monk with a bullhorn herds worshipers through the row of coffins, nine at a time.
Like Charlie Chaplin on an out-of-control assembly line, they follow the monks' commands: into the coffin, down on their backs, eyes closed, shroud on, shroud off, up on their feet, quick prayer and scramble out into a new life.
The whole process takes a minute and a half. The next group of nine is waiting.
A cardboard sign warns visitors not to stand behind the coffins, where bad karma sucked from the "dying" devotees may still be hovering.
The rebirth ceremony is unusual, but not surprising, said Suwannan Sathta-Anand, an associate professor of philosophy at Chulalongkorn University in Bangkok.
"These days, a lot of people in Thai society are creating new kinds of rituals and practices to suit whatever purposes they have," she said.
With the hierarchy of organized Buddhism slow to adapt to changing times, she said, "people are looking for their own expression of Buddhism that could be relevant to their lives."
Along with the religion of their past, a tide of modern capitalism has seized the imagination of Thais as their country has rapidly developed in the past three decades.
Two years ago, Thailand was gripped by a frenzy for a magical amulet called Jatukam that sold in several versions with unambiguous names like "Super Rich," "Immediately Rich," "Rich Without Reason" and "Miracle Rich."
The people who come to be reborn here at Wat Prommanee are seeking help for many of the ailments and aspirations of life.
Jirapat Winarungruang, 37, a lawyer, came one recent day to complete a transformation that he began four years ago when he changed his name from the less auspicious Suthep Wina. His new name includes the suffix rungruang, which means prosperity.
Fifty percent of a person's destiny is determined by his name, Jirapat said, and the other 50 percent by his date of birth. When he arose from the coffin, born again, he said, the last vestiges of the old Suthep Wina would be gone.
Woraphot Sriboonyang, 30, an engineer, said he had come with Jirapat and four other family members to rid himself of bad karma.