Learning to live
by PICHAYA SVASTI, Photos by YINGYONG UN-ANONGRAK, The Bangkok Post, Sept 30, 2008
Master's degree students at Savika-Sikkalai, a new Buddhist university, are learning how to cope with life's stresses - and be of service to others
Bangkok, Thailand -- In a pavilion at the Sathira-Dhammasathan Buddhist centre, a group of some 30 people, mostly lay women and nuns, are lying perfectly still on the floor, their eyes closed - like dead bodies.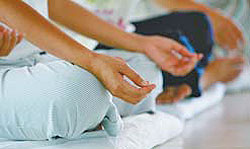 << Learning by practicing at Savika-Sikkalai
They are deep in the corpse meditation.
After 30 minutes, they sit in a circle and slowly and mindfully massage the shoulders of the person in front of them as an expression of mutual hospitality.
This is not a yoga or massage class; it is a class on life and death for the master's degree students at Savika-Sikkalai, a new Buddhist university.
"Our students should become healers, friends and counsellors for the weak," Mae Chee Sansanee Sthirasuta, director of Sathira-Dhammasathan and chairwoman of Savika-Sikkalai, remarked.
According to the nun, Savika-Sikkalai's goal is to produce dharma ambassadors to serve mankind, the environment and the world. The university aims to equip students with the ability to heal their own souls first so they can help heal others later.
The establishment of Savika-Sikkalai was inspired by what the Dalai Lama, the Tibetan spiritual leader, told her in 1999 - that real education should be able to benefit and change people's lives.
Since Sathira-Dhammasathan was founded in 1987, the nun has always been active in using Buddhist spirituality to help women in difficult situations, particularly victims of domestic violence as well as unwed mothers. Her efforts, however, never seem able to keep up with the problems.
Believing that prevention is better than cure, Mae Chee Sansanee set up a variety of programmes for families to integrate spirituality into their lives, from teaching meditation to pregnant women to giving spiritual therapy for dying patients.
The setting up of the Savika-Sikkalai Buddhist university is her most recent effort to find a sustainable remedy - an education that heals wounded souls.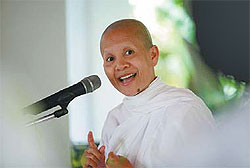 Mae Chee Sansanee Sthirasuta >>
The nun gathered a team of experts to draft a curriculum, later endorsed by the Mahachulalongkornrajavidyalaya Buddhist University. It was finally opened this year.
Although Savika-Sikkalai is under the umbrella of Mahachulalongkornrajavidyalaya University, it runs independently in both management and funding.
Savika-Sikkalai is offering a master's degree programme in "Buddhism and the Art of Living", taught by lecturers from its sister university and other experts. It plans to open a doctorate programme and English-language programme four years from now.
"Here, the study of Buddhism focuses on practicality, not philosophies or debates. Our students should be able to help and counsel people in real life," Mae Chee Sansanee said.
Buddhism is essentially about how to ease suffering. And at Savika-Sikkalai, the principal task of the students is to learn to live in the present, here and now, without resentment with the past or fear of the future.
In its first year, Savika-Sikkalai has neither buildings nor classrooms for its students to use. "They study under a tree, the way the Lord Buddha did," the nun said.
It will soon have a building, though. Sathira-Dhammasathan is raising funds for a 120-million-baht project to construct buildings on an empty land plot in the compound of Sathira Dhammasathan. Under one of its several campaigns, the centre is inviting the public to save 10 baht in a piggy bank every day until it is full to help make the project a reality.
Believing that real education creates a free mind to serve the world, Mae Chee Sansanee is confident the alternative education based on Buddhist spirituality at Savika-Sikkalai will help ease social problems while helping bridging the gap between the secular and monastic worlds.
"This is certainly a noble education to create noble people," said Phra Suthee Worayan, vice-president of Mahachulalongkornrajavidyalaya University.
Nowadays, people study only for technical or classroom knowledge, he said. But that kind of knowledge cannot make good and happy people. To live happy lives, people need to foster the qualities that happiness can thrive on such as self-discipline, strong will and wisdom, the monk added.
Savika-Sikkalai means a place to nurture an education for lay Buddhist females, he explained.
Privy Councillor Dr Kasem Wattanachai, honorary adviser to Savika-Sikkalai, said there is an urgent need for a place where people can learn and apply Buddhist teachings in their daily life. "Savika-Sikkalai is the place to do so."
It is also what the students expect - to cultivate inner calm so they can help others do the same.
"We study not only Buddhist teachings but also spiritual counselling. We must know 'self' first and then help others by being their sincere friends," said one of the students, Chintana Chalermchaikit, an executive of a cosmetics company.
According to her, what she learned at Savika-Sikkalai has given her a new outlook on life, a much more peaceful one. The law of interconnectedness as well as the law of cause and effect, for example, help make her more understanding and more respectful of others' choices which differ from hers.
Chorpaka Wiriyanon, a television celebrity, is a student. From being a hot-tempered person, she said she has observed that she has become much calmer and more patient because Savika-Sikkalai stresses practical application of the teachings in daily life.
Her classmate, Sainumpung Rattanangam, a public relations officer, said she had noticed a similar change in herself. "I used to be self-centred, hot-tempered and controlling. Now, I have learned to listen to others."
Now in their first semester, the students at Savika-Sikkalai are studying ariya-sacca (Noble Truth), anapanasati (mindfulness of breathing), life and death, and Buddhist counselling for the dying and their relatives. In the second semester, they will put what they have learned into practice by offering counselling to the seriously ill in hospitals.
According to Sainumpung, knowing what suffering is, how it comes about, and how to overcome it, works wonders in giving her inner calm. "This is what I've always looked for, to be less unhappy and to be able to live with mindfulness and understanding about life."
Whenever her mind is invaded by sadness or worry, Sainumpung will immediately shift her mental focus to the breathing meditation, trying to be an observer of what is happening inside. The detachment practice helps foster objectivity and often leads to a solution, she said.
"I want to learn about life, how to live with more happiness and less grief," she said, "Mae Chee Sansanee teaches that we will encounter less sorrow just by changing the way we think," she noted.
For Chorpaka, her aim is to find how to work happily despite problems all around. "Now I can handle work-related stress much better."
As a media professional, she plans to write a thesis on how the media can help people reach enlightenment.
"At Savika-Sikkalai, the way we learn is not through memorisation of the texts, but through practicing until we really understand through our own experiences."
With increasing social malaise that comes with excessive consumerism, Mae Chee Sansanee said education that fosters compassion and a spirit of service is most urgent.
"If we know how to approach life mindfully and kindly, it will be easy for us to live a life of service."