In latest Thai fad, a taste of death brings hope for better life
AFP, Oct 11, 2008
NAKHON NAYOK, Thailand -- The coffin ceremony is the latest religious trend to sweep Thailand, and the saffron-clad monks at Wat Prommanee promise to deliver money, love and a host of other requirements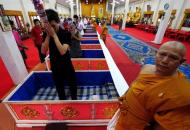 In Namfon Mamuenwai's case she is looking for a visa to the Netherlands and she says she died for the man she loves -- if only for a moment.
The 39-year-old Bangkok resident climbed into a coffin in a Buddhist temple, experienced a "spiritual death" and was resurrected with purified karma -- all in the hope of joining her foreign boyfriend in the Netherlands.
"I want to get to another country but cannot get a visa," said Namfon.
A week after seeing the ceremony at the Wat Prommanee temple on television, she drove 112 kilometres (70 miles) from Bangkok to become one of around 2,000 people who each week climb into a coffin to "die" and be "reborn".
"I think this can help me a little bit because now this temple is popular," Namfon told AFP.
"Everyone who came here, who prayed here, who came to make a wish, they got what they wished for," said Charuay Thanavaro, a monk at the temple.
Wat Prommanee has been running the coffin ceremony for four years, and officials say that over the last two years attendance has almost tripled from the 100 people who trickled through the door each day in 2007.
At first, participants got into non-specific boxes as the monks tried to get people used to the idea of willingly climbing into coffins, but now people happily jump in for a chance at improving their fortunes.
A spell in a coffin costs 100 baht (nearly three dollars) for about two minutes, while the whole ceremony will set you back 180 baht.
Charuay recommends participants pay for the full package if they want their wishes completely fulfilled.
"If they just want to attend the ceremony and pray that is fine, but then they will only get 80 or 90 percent results," he says. "If they lie in the coffin, they will get 100 percent results."
After 90 minutes of chanting, the hopefuls queue for the nine oversized coffins, each marked with a random three-digit number which can be used for betting in the lottery, organisers say.
Once in the coffins, visitors hold a bunch of flowers, whisper some more prayers, then lie down and "die".
Monks pass a white cloth over the nine coffins, triggering the symbolic death and sucking the bad karma. Attendees are advised not to stand on the side of the coffin where the bad karma is dispelled.
Amulets and rituals promising protection, wealth or to fulfill wishes play a big role in the culture of the 95-percent Buddhist kingdom, despite not being mentioned in Buddhist doctrine.
A few years ago, the nation scrambled for amulets featuring King Rama V.
Last year, a 51-year-old woman died as a crowd swarmed for a different talisman, which was believed to bring wealth and protection from harm.
These booms and busts for rituals, temples and amulets are not just fads, says Milos Hubina, a lecturer at the College of Religious Studies at Thailand's Mahidol University.
Rather, they reflect a widely-held belief that magic and luck can be used up over time and once they have been drained from one place, must be sought in another spiritually-charged object or ritual.
"This view of temporal efficiency or a temporal magic charge within the object is quite common in Thai culture," Hubina said.
"I think this is one of the reasons they have no problem with going crazy for an amulet one year and forget about it completely the next year."
As with many of the worshippers, money woes brought 50-year-old Thanyathon Iamnaimuang to the temple, and her initial success prompted the widowed mother of two to bring her friend Laongdao Chaiyasat.
"At first I was excited, shaking and I was afraid," the 42-year-old pharmacist said. "But the monk told me that if our mind is strong, we will progress steadily, so I wasn't afraid any more."
Patacharawarai Sri-on, 23, came to the temple out of curiosity and snapped pictures of the ceremony before stepping into the wooden box.
"I think it helps," she said after her "death" and "rebirth" were complete.