Pilgrims of Faith

Story and photos by PEERAWAT JARIYASOMBAT, The Bangkok Post, Sep 24, 2009

The end of Buddhist Lent is a time for colourful parade and pilgrimage to Mae Hong Son

Mae Hong Son, Thailand -- Late monsoon season every year devout Buddhists in Mae Hong Son province, a cosy town in north Thailand, mark the end of Buddhist Lent in very unique and colourful way - via the Chongpara Festival.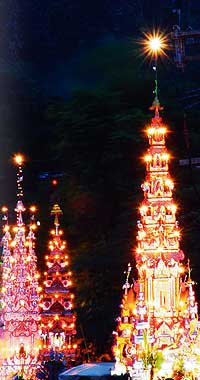 Chongpara is a Tai word meaning ''Castles for Lord Buddha''. The festival features a parade of colourful paper castles the locals build to welcome back Lord Buddha after he has finished praying for his mother in heaven during the lent period.
Before the full moon day of the 11th lunar month, every October, Buddhists in Mae Hong Son gather at local temples to build colourful castles. On a particular evening a few days before the full moon, they dress up in traditional attires to show off the castles they are so proud of. At twilight they light up the castles resulting in a scattering of vibrant colours. The colourful parade of castles then takes off, suddenly turning this sleepy town into a vibrant and lively community.
At this point, if you are standing on Khun Lumprapas Road, the main thoroughfare, you will not believe that Mae Hong Son town could be this lively and busy.
Two days later the focus of activity shifts to Wat Phrathat Doi Kong Mu, that sits atop a mountain downtown where thousands of Buddhist devotees converge, taking up every square inch of space in the temple and on its stair, waiting to offer alms to monks from the crack of dawn.
The people's great show of faith in Buddhism during the festival makes Mae Hong Son a fitting destination for a pilgrimage at the end of every lent period.
The Buddhist Lent this year ends October 4, on the full moon of the 11th lunar month. For more information about the festival, call TAT's Mae Hong Son office at 053-612-982 to 3 or visit http://www.travelmaehongson.org.