Temple proves cleanliness is next to godliness
The Bangkok Post, Oct 22, 2009
Bangkok, Thailand -- Once a little known Buddhist temple by the banks of the Chao Phraya River - as it flows through Ayutthaya - Wat Takarong has seen a steady influx of tourists since receiving the "Beautiful Garden, Clean Toilet" award from the Office of Tourism Development, which it has now won four years in a row.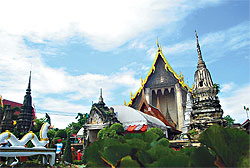 << Wat Takarong's beautiful toilets and a floating market nearby have become a huge attraction for tourists.
The idea to give the restrooms a facelift came from Phra Khru Sutthipanyasopon, a charismatic monk who became abbot of the temple, located in Ban Muang village, close to a decade ago.
"Even before the renovation we began sprucing up the toilets because temple visitors tend to enter them first to freshen up before going on to pray. I'm of the opinion that our toilets play a significant part in making their temple experience memorable."
The toilets are done up in the most extravagant manner imaginable - carpeted floors and air-conditioning are part of the experience - boosting attendance that was dismal when the abbot took helm of the temple.
He bemoaned that smaller temples in Ayutthaya had a difficult time because most people prefer bigger and more popular temples and emphasised that to survive the smaller ones will need to set themselves apart in order to improve their appeal to worshippers.
"Before I was ordained I was the head of human resources at a leading department store, where I leaned how important a trip to the loo is to most people. Our toilets today have become the talk of the town, and people from several organisations have come here to learn from us and follow into our footsteps," said the abbot.
Set in beautiful natural surroundings Wat Takarong is steeped in history, having also doubled as a military outpost until 1767 during Thailand's long and protracted war with Burma.
While visiting temples, noted the abbot, young Thais these days look forward to more than a good sermon. "We have to face up to the fact that modern-day Thais go to temple not just to make merit but also to relax and be entertained. Wat Takarong realises this very well. The extensive media coverage for our toilets drove us to manicure the temple landscape to offer visitors a more laid back and cosy atmosphere. Next year we plan to open a meditation centre."
The path from the entrance to the prayer hall is adorned with clay sculptures of various sizes and styles. The ones that grabbed my attention were those of little novices donning sunglasses and facial masks. The temple guide explained that the goggles belonged to visitors who had forgotten them in the temple compound. They can come and retrieve them any time, while the masks were there to warn visitors of the H1N1 flu virus.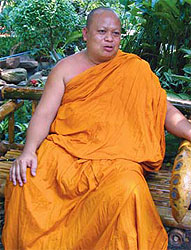 Phra Khru Sutthipanyasopon, the abbot >>
On sale at the temple are orchids and locally made souvenirs.
One can't help but start feeling like being at a resort when making your way to its much acclaimed toilets, housed amidst a beautifully landscaped garden. The ladies section looked immaculate, for the passageway is made of cement and wood. It is when one reaches the hallway leading to the toilet cubicles that its grandeur starts to unfold. Eye brows raise at the sight of dark blue floor carpets, the air-conditioning, revolving fans in each cubical, beautifully decorated curtains and automatic air fresheners.
The temple's other outstanding feature is its ubosot which houses a smiling Buddha, built during the late Ayutthaya period. Other highlights include a large, century-old teakwood sala, household items and relics from different periods of history on show at the temple museum, as well as a monk quarter.
For lunch we hit the Takarong Floating Market, a short distance from the temple. Since the temple is located in a Muslim community, most of the dishes were a nice mix of Muslim and Chinese home recipes. Wooden boats plied everything from meat ball noodle soup to marinated fried chicken, while desserts such as sticky rice with mango seemed a popular choice, as did milk tea and freshly brewed coffee. Here you can also buy local souvenirs and handicrafts.
The market is open only on weekends and public holidays.