So defrock us then
The Bangkok Post, Mac 23, 2010
Bangkok, Thailand -- Government scratches head as 100 monks put down sticks at UDD rally, acting as 'human shields' to protect protesters, Foreign Ministry denies pressuring UAE to toss out fugitive Thaksin, Environment Minister Suwit cuts short overseas travels to support Democrats.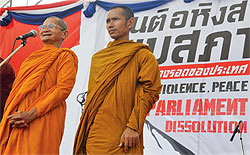 << Monks join the UDD rally stage, in possible defiance of a rule banning them from politics.
The almost 100 monks who have joined the red shirt rally may risk violating a Buddhist regulation that bars them from taking part in political activities.
But they are determined to remain at the rally to serve as what they call a ''human shield'' for the protesters.
Most of the monks come from Wat Umong in Muang district in Chiang Mai, the home province of former prime minister Thaksin Shinawatra, said to be the red shirt movement's de facto leader.
Chiang Mai is also a stronghold of the red shirts' United Front for Democracy against Dictatorship movement.
In a recent letter to the Office of National Buddhism (ONB), the pro-red shirt monks justified their participation in the rally by saying their presence would serve as a warning to the government not to use force against the demonstrators.
ONB chief Amnat Buasiri said his office could not stop these monks from joining the rally as long as they did not break Buddhist regulations.
But the monks are treading a fine line when they speak on stage at the UDD's rallying point at the Phan Fa Bridge. Some were also seen riding pillion on red shirt motorcycles during the movement's mass mobile rally through Bangkok last Saturday.
Mr Amnat indicated it was open to interpretation whether some of the acts carried out by the monks are punishable by defrocking.
Prime Minister Abhisit Vejjajiva was earlier informed of some of the connections between monks and the UDD before the mass rally on March 14.
Some senior monks in Bangkok are themselves ''red at heart'', according to a security source.
The UDD's Phan Fa rally is the location of some well-known temples such as Wat Chanasongkram, Wat Saket, Wat Tritosatep, Wat Makutkasat, and Wat Rachathirat. These temples are the residences of high-ranking monks.
The authorities' suspicions that some monks harbour political affiliations has upset many senior monks who insist that most of them are neutral and regulation-abiding clergy.
Only a few might be regarded as red shirt monks, they said.
A senior monk at Wat Rachathirat was being watched by the authorities after he was seen driving a motorcycle from the rally site back to his living quarters many times.
The government, meanwhile, has reportedly ordered security personnel to stop making a watch list of monks.
Mr Abhisit and Deputy Prime Minister Suthep Thaugsuban have reiterated the government will not disperse the red shirt protesters if they remain peaceful.