Thai government concerned with monks' presence at Bangkok rallies
By Anasuya Sanyal, Channel NewsAsia, 31 March 2010
Thai government concerned with monks' presence at Bangkok rallies
BANGKOK, Thailand -- Buddhist monks are not allowed to get involved in Thai politics, but some monks have courted controversy by joining anti-government rallies in Bangkok.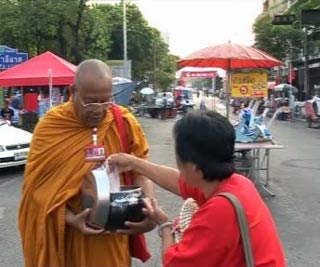 << A Thai monk receiving food from a protester in Bangkok.
What do you get when you add orange to red?
In Bangkok's early morning calm, protesters at the Red Shirt rally offer alms to Buddhist monks and receive blessings in return.
Their numbers are unknown, but they have been a steady presence during anti-government protests, now into its third week.
Traditionally, Buddhist monks in Thailand have stayed away from politics. Early last century, laws were even passed to prevent this from becoming a possibility - with fears that their moral and spiritual authority could outweigh almost all others in the Kingdom.
Prime Minister Abhisit Vejajjiva has warned Buddhist holy men to stay away from political rallies, after concerns that protesters could use them as human shields in case of a crackdown.
But those who make their way daily to the site at Phan Fa Bridge disagree.
One Thai monk said: "A monk is also a citizen of this country. They have to take us into account, too. There are over 300,000 monks, but we don't even have to right to vote."
Another monk said: "I came here to be the protesters' mental support, because monks can't fight with weapons. Democracy means applying 'dhamma' to the country's rule. Therefore, monks can't help participating."
"I want to sacrifice myself. Even if I have to die from bullets which are fired unfairly, I am willing to die before laymen," another monk said.
Some high-ranking monks say using the stage at the rally doesn't conflict with the ban on political activity.
Phra Mahashow Tassaniyo, Vice Director for Office of Buddhism Promotion and Social Service, said: "Assuming political office is out of bounds. When monks come out and give their opinion, there is nothing to worry about because monks don't want to be prime minister.
"But this government is afraid that we will publicise their transgressions and that will only reinforce protesters' criticisms."
Soldiers and police have been stationed in many Bangkok temples close to the rally site, much to the dismay of monks and worshippers.
Some like Wat Bowornivet are black-listed and have armed soldiers outside, keeping watch.
For a politically fractured country like Thailand, what could be interpreted as open discontent from some of its spiritual leaders is not a good sign.
This is especially when Buddhism is a key pillar, along with nationhood and the monarchy, forming the very ideal of Thai unity.