Thailand's orange-robed monks reveal shades of red
By Rachel O'Brien, AFP, Apr 29, 2010
BANGKOK, Thailand -- Dozens of Thai monks, clad in vivid orange robes, untangle their hands bound with sacred Buddhist thread after performing a chanting ceremony to protect the anti-government "Red Shirts".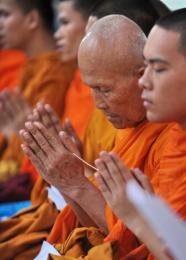 << The monks are said to be "neutral" despite their presence at the rally
Since mass protests began in Bangkok in mid-March demanding snap elections, the red-dressed crowds have been speckled with the monks' distinctive attire despite a long-held monastic custom of keeping out of Thai politics.
"We have been staying with the people from the beginning, more than one month already," said a 70-year-old monk, Doctor Tuanchai.
"We sleep on the roadside. It's a very difficult life but we decided to do it for peace and harmony and love for the Thai people."
He said the monks were "neutral" despite their presence at the rally, though his comments revealed a leaning towards the mainly rural poor and urban working-class Reds, who say they are fighting the Thai elites.
"I hope they will gain victory soon because they ask for democracy and justice. I hope all monks and all Thai people in general, the majority will sympathise with the Red Shirts," Tuanchai said.
Thai monks are banned from voting or running for office and a body of senior monks, the Supreme Sangha Council, ruled long ago that they cannot join a political rally, an official from the Office of National Buddhism told AFP.
The official, asking not to be named, said a monk faced admonishment from the abbot of his temple -- and in extreme cases could be defrocked -- for engaging in overt political action.
"It's seriously frowned upon," said Justin McDaniel, Associate Professor of Buddhist studies at the University of Pennsylvania.
"Generally monks should not take sides. So you can stand up to human rights abuses but you shouldn't take a political side."
While activist monks are relatively few, they have not been hard to find in the recent protests. Some even joined the queue to donate their own blood as part of an attention-grabbing tactic soon after the rolling rallies began.
Now as Reds fortify the imposing barricades around their base amid fears of a crackdown, a handful of monks -- though it is difficult to check their authenticity -- have been seen on the site brandishing sharpened bamboo sticks.
"When the monks speak, they must speak about calm and non-violence, but I think everyone has the right to defend themselves," said Jaran Ditapichai, a leading Red Shirt.
"In Thailand we have few monks who play a role in politics but now we request that monks come to join us," he added.
The fact that monks are not afraid to openly associate with the movement could signal their confidence in the Reds, according to Thailand-based academic Louis Gabaude of the French School of the Far East.
"It seems that the monks, especially from the northeast, feel that they or the Reds are in a position of sufficient strength to dare to expose themselves publicly and not risk a backlash," he said.
But Yanamed Siriyanmaytee, a monk who sprinkled holy water on the crowds of protesters by the stage, insisted he was only there because the Reds asked for a protective ceremony -- a request that a monk is duty-bound to perform.
"The monks do not have any colour. We are from every side," said Yanamed, one of the "monk police" in Bangkok who check up on the behaviour of their religious brethren.
Thailand expert Paul Chambers, at Heidelberg University in Germany, said traditionally "the Thai monarchy has been able to rein in institutionalised Buddhism" as the king appoints the country's top monk, the Supreme Patriarch.
Hence Thai monks have been less politically active than in other countries such as neighbouring Myanmar, he said, but "a schism could be growing within Thai Buddhism based upon and around the message of the Red Shirts".
Some monks, Chambers added, consider themselves "human shields" in the protests, which have already descended into bloody clashes with troops that have left 27 people dead in Thailand's worst civil violence in 18 years.
"We join the stage warning the Thai prime minister not to use forces against the people, against the Red Shirts, because more bloodshed will occur if they use military means and war-like weapons," said monk Tuanchai.
"But I don't fear because we work for the Buddha for world peace. We are ready to die like Jesus Christ."