Chang beer opponents thank SET board for listing postponement
TNA, March 23, 2005
BANGKOK, Thailand -- More than 6,000 people from 128 non-governmental organizations gathered in front of the Stock Exchange of Thailand headquarters this early morning to thank its board for the indefinite postponement of the meeting on listing of Thai Beverage Co, a brewer of Chang-brand bear, on the bourse.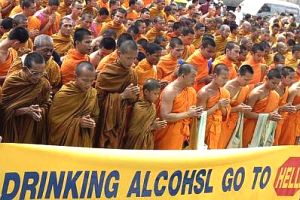 However, they insisted on continuing their movement until the board would decide to give up the listing of the country?s giant brewery on the stock market.
A source at SET said representatives of the organizations including students, youths, women, and monks rallied in front of the SET building and read a statement in Thai and English expressing thanks for the board?s decision to postpone the consideration of listing the company indefinitely.
A representative of the youth gave a boutique of flowers to express thanks to Sophavaee Lertmanaschai and Patareeya Benjapol, who are senior executive vice president of SET, and Santi Keeranand, manager of the Secondary Market.
The rally ended at around 09.15 hours after a group of monks gave a pray and blessing to the people and the executives of SET.
ACM Veeravuth Lawaparaya, a leader of the opponents, said the gathering was held in a sincere manner and without support from any interest groups, aimed at demanding the cancellation of listing of the producer of Chang beers.
He said the opponents viewed the liquor business had undermined the country and earned no dignity. So, they would continue to stage the opposition until the planned listing of the company was called off.
Lelawadee Watcharobol, a former actress, said the Thai society already had a lot of problem now. So, she wanted to ask SET to give up listing of the brewery because she viewed drinking the liquor and beer caused accidents and other social woes.
Should the company manage to go public, it could mobilize funds at a lower cost and launch attractive advertisements to persuade more people to drink.
Wannaree Trainetr, an advisor of the Buddhist youth organization, said the liquor business had undermined the society and the country. Should it manage to be listed on SET, more young people would be enticed to try drinking.