Thailand: Huge donations received by famous monk queried
The Nation/Asia News Network , Sep 14, 2010
Bangkok, Thailand -- A WELL-KNOWN author and an avid Buddhist yesterday filed a report with the Department of Special Investigation, asking for an inquiry into more than Bt100 million (S$4.3 million) given to a monastery run by a famous monk.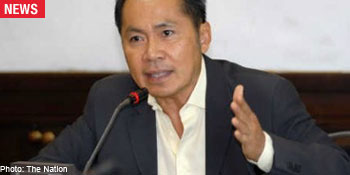 The money was allegedly given or put in the name of the monk's wife, who is a Buddhist nun living at the popular Suan Santitham in Chon Buri's Sri Racha.
Author Thitinart na Phatthalung also demanded back Bt4.36 million (S$189,000) she donated to Phra Pramote Pamotechoe, and his wife Oranuch Santayakorn, after learning the donation was allegedly documented as having been given by Oranuch.
Click here to find out more!Click here to find out more!
Thirdsak Techakijkajorn filed the petition jointly with Thitinart yesterday.
The Bt100 million (S$4.3 million) worth of donations includes a vast plot in Sri Racha that Suan Santitham monastery is located on.
Earlier, former followers of Phra Pramote lodged a petition with the Office of National Buddhism accusing him of public fraud by claiming that he had attained nirvana - a claim that could have him defrocked.
The complainants also said that a foundation should be set up to document and regulate all donations, instead of leaving them up to the husband and wife "team".
Phra Pramote, who has had a strong following for more than a decade, never divorced his wife, who was ordained as a Buddhist nun soon after her husband became popular.
Thirdsak said more followers would gather to lodge another petition with the ONB on Thursday with more documents that allegedly prove monetary transactions with the monk and nun.
"The monk and nun never lawfully divorced each other and have lived together on the premises for more than 10 years. Also putting donations of followers under the wife's name is not right," he said.
Thitinart and Thirdsak have not made criminal allegations against Phra Pramote and his wife Oranuch, nor have they indicated that there may have been sexual relations between the two, which is forbidden under the vow of celibacy and might get the monk defrocked if proved to be true.
Thitinart, who was known for her wealth, lost nearly everything during the economic crisis in the late 90s but recouped her losses by writing several best-sellers on her experiences with Buddhism.