Thailand Revisits Abortion Laws After Grim Discovery
by Anthony Kuhn, NPR, December 27, 2010
Bangkok, Thailand -- In Thailand, at Bangkok's Wat Phai Ngern, or Silver Bamboo Temple, lottery ticket vendors line the path to a mortuary where bodies are usually stored for cremation. On a recent day, one of the vendors, Lawan Yutitham, explains that the hot-selling lottery ticket numbers that day are 02, 07 and 27.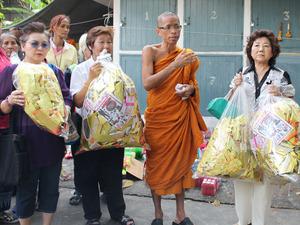 << Buddhist monk Somprasong Panyavajiro stands in front of the mortuary with followers holding bags of paper money offerings for the spirits of the fetuses. The temple's spokesman said the monks were unaware of the corpses in the mortuary. Three people have been arrested so far in the case.
Monk Somprasong Panyavajiro stands with Buddhist followers holding paper money offerings
Wang Zemin for NPR
Two is for the 2,002 dead fetuses police found in the mortuary on Nov. 16. Seven is for the number on the mortuary door where the fetuses were first discovered, after neighbors complained about a foul odor. And 27 is the date in November when the temple organized a large ceremony to pray for the souls of the aborted babies.
Lawan says that she and many of her customers believe some unseen spiritual force near the mortuary makes those numbers especially lucky.
In front of the mortuary, Buddhists lay out little cartons of milk, fruit and toys, all for the dead fetuses to enjoy in the afterlife.
The discovery of the fetuses has drawn attention to a hidden problem: illegal abortions in Thailand. The scandal contrasts with Thailand's general success, relative to its neighbors, in raising living standards and providing health care and education.
Monk: Discovery Caught Temple Off-Guard
The fact that the fetuses were discovered in a temple was particularly awkward for the Buddhist establishment. More than 95 percent of Thais practice Buddhism, which considers abortion a sin.
"As a special merit-making event for the souls of the 2,002 fetuses, this ceremony has been organized according to the spirit of the four 'sublime attitudes,' " intones senior monk Prarajja Dhammavati at a well-attended ceremony. The attitudes are lovingkindness, compassion, sympathetic joy and equanimity.
There's lots of praying at the ceremony, but also lots of street food vendors and a traditional Thai orchestra. There are several stone statues of plump infants with their eyes closed, which the visitors pat and stroke.
Temple spokesman and monk Somprasong Panyavajiro is handling crowds of inquisitive reporters.
"The temple administration had no knowledge of the fetuses beforehand," he says. "I can assure you that monks here in the temple were never aware of this and it was not the temple's intention or aim for things to happen like this."
The temple's monks knew there was a mortuary at the back, he explains, but they seldom went there. The temple assigned non-monk caregivers to manage the facility.
Crackdown Under Way
Police arrested two intermediaries who said they were paid to take aborted fetuses from illegal abortion clinics and deliver them to the temple's mortuary, where they awaited cremation. Police arrested another woman for running an illegal abortion clinic.
The scandal also has sparked a crackdown on illegal abortion clinics. Thailand has thousands of small private clinics, and Health Ministry official Tares Krasanairawiwong says the government can't police them all. No reliable figures exist on the number of abortions that take place in Thailand, according to Health Ministry officials.
"Just only government agency, we cannot deal with the problem," he says after attending the ceremony. "We cannot inspect all. We urge the people to inspect for us or so and tell us. If there some complaints, we have a lot of teams to inspect, and if illegal, we shut down."
Since the scandal, Tares says ministry officials have inspected 25 clinics around Bangkok but shut down only one. He adds that government agencies, NGOs and citizens must work together to help prevent unwanted pregnancies and illegal abortions.
Mixed Support For Reforming Laws
Many Thais are calling for reform of their country's half-century-old abortion laws. The Thai government bans abortions except when the pregnancy results from rape, jeopardizes the mother's health, or when the fetus is deformed.
Democrat Party lawmaker Satit Pitutacha plans to introduce legislation making it easier to get an abortion. He argues that this will reduce social problems and crime.
"The existing laws do not take into consideration a woman's age, financial status and readiness for motherhood," he says. "The discovery of these fetuses shows that there are a lot of young women in our society who are not prepared to be mothers who want an abortion. I think they should have safe options and alternatives that they can choose of their own free will."
A recent poll by Suan Dusit Rajabhat University of about 1,500 people in and around Bangkok found that 47 percent of respondents saw abortion as an individual right of those who can demonstrate they need to have one. And most supported changing the laws.