Buddhist monk aided Thai central bank
by JAMES HOOKWAY, The Nation, February 09, 2011
Bangkok, Thailand -- When Bua Yannasampanno (Ajahn Maha Boowa), a hermit Buddhist monk, died in Thailand at the age of 98 on Sunday, his followers were convinced he had reached true spiritual enlightenment and wouldn't be reborn.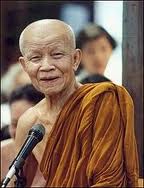 << Ajahn Maha Boowa (1913 - 2011)
But he also left the world with at least one eye on worldly affairs: His will assigned all the gold in his custody to Thailand's central bank.
Besides offering spiritual guidance to millions of thousands of followers, this temple abbot, fondly known as Venerable Uncle Bua, will perhaps be best remembered for his rather un-hermit-like interest in Thailand's financial affairs.
In 1998, with the country in the grip of a calamitous economic crisis, he left his forest retreat to call on Buddhist Thais to give up some of their wealth to help pull the kingdom through one of its darkest hours. They responded in their tens of thousands, lining up at his temple to hand over gold bars, jewelry and thick wads of foreign currency.
The abbot later presented over 12 kilograms of gold and around $10 million in foreign currency to the Bank of Thailand to patch up its badly depleted foreign reserves. Since his death, more donations have flowed into his foreign temple, which will also be handed over to the central bank.
Born Bua Lohitdee in northeastern Thailand, he, like other Thai men, entered the monkhood when he was 21 and took the name Bua Yannasampanno. Unlike most, though, he never left, staying on to study the country's forest-monk traditions, which emphasize getting close to nature in order to perfect one's understanding of existence.