Phuket's Big Buddha to Gain Buddhism Museum
By Pathomporn Kaenkrachang, Phuketwan.com, March 12, 2011
Phuket, Thailand -- A BUDDHIST museum is to be built at the Big Buddha site atop a hill on Phuket amid claims and counter-claims about cash donations.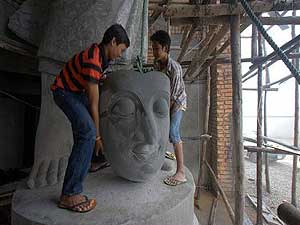 << A small statue is completed inside Phuket's Big Buddha in 2008
Photo by phuketwan.com/Alan Morison
The Big Buddha has become one of Phuket's most popular attractions away from the beaches and reefs, attracting hundreds of visitors every day to the soaring 45-metre jade icon and the accompanying spectacular views.
But the building of the buddha has been accompanied by commercial outlets that have burgeoned along the once green six-kilometre road to the top from Chalong, in southern Phuket.
Suporn Wanichkul, president of the controlling Mingmongkol Faith 45 Foundation, says he wants to keep access to the Big Buddha free, although visitors have donated many millions of baht by sponsoring every jade tile and bucket of concrete.
He flatly rejects anonymous claims that some of the funds have been syphoned off and says that every baht can be accounted for.
''We've been very careful and the foundation can show how each single contribution has been spent,'' he said yesterday.
The Big Buddha had its beginnings in 2006 but, like the view from the top of 380-metre Nakkerd Hill, the project seems to be never ending.
Next part of the construction involves a single level museum in the present car park that will soar inside, atrium style, to four storeys. The foundation needs to raise money next for 600 tonnes of steel for the project, Khun Suporn says.
The design phase has been completed and construction is hoped to begin soon.