'Fake' Buddha's Followers Defend His Teachings
by Sek Odom and Holly Robertson, The Cambodia Daily, August 6, 2014
KOH THOM DISTRICT, Cambodia -- In this rural part of Kandal province, a 35-meter-high statue of a mustachioed Buddha towers incongruously above the surrounding fields of corn and rice, providing a glimpse into the mystical world of Thean Vuthy.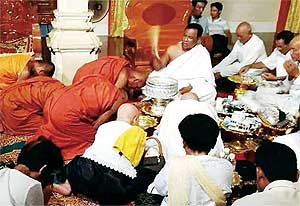 << When monks bow to lay people. The cult of Thean Vuthy
A self-professed holy man who habitually dresses in white robes and sits on a throne to receive visitors, Mr. Vuthy claims to be able to communicate with animals and to have unique insight into Buddhist teachings.
For years, he has attracted throngs of followers hoping to absorb his purported wisdom. But he has also drawn the ire of numerous devout Buddhists who call him a charlatan.
Most recently, he was publicly lambasted last week by authorities for apparently describing himself as the fifth reincarnation of Buddha and allowing monks and nuns to bow down to him.
According to his followers, he has a network of supporters that extends as far as Thailand, Vietnam and the Cambodian community in the U.S., and it is not unusual for more than 1,000 people to descend on his Tuol Preah Reachea pagoda during Buddhist festivals.
The extravagant pagoda complex, which was built by Mr. Vuthy between six and eight years ago, also includes a 20-meter-high statue of Buddha surrounded by the mythical nine-headed serpent known as a naga. Twenty gold-trimmed stupas each hold a single jade Buddha on a gold throne. Visitors are left in little doubt that he is able to draw on substantial wealth.
Ten large residential villas have been built parallel to the main temple, with a further five apparently abandoned halfway through construction. Officials also say Mr. Vuthy has a number of personal homes away from the pagoda.
The Ministry of Cults and Religion - which accused him of "seriously offending the values of Buddhism" - says it is investigating allegations he was cheating his followers out of their money.
Phen Phoan, a 43-year-old cook at the pagoda, said one family was to blame for trying to profit from videos and photographs of Mr. Vuthy, although she declined to give details.
"After teacher [Mr. Vuthy] got money from overseas, he only took a video to show them what he had done," she said.
The pagoda was shut down on Sunday after police and officials from the Ministry of Cults and Religion discovered what they said was improper religious iconography there, including videos promoting Mr. Vuthy and pictures depicting his face over Buddha's body.
Kandal Governor Phay Bun Chhoeun said expensive goods had been seized from Mr. Vuthy's room at the pagoda.
"The jewelry we saw looked like it came from a big jewelry store in Phnom Penh," he said.
Some of Mr. Vuthy's followers had already left before the raid, while seven monks were afterward relocated to a pagoda in nearby Takhmao City.
On Tuesday, about a dozen police officers washing down their lunch with cans of Anchor beer - with orders to "protect the property" until provincial authorities said otherwise - were among a small contingent of people at the site that included a handful of curious villagers. Construction workers who were extending the pagoda also remained, hopeful that Mr. Vuthy would return to pay them.
Som Sovann, 70, one of several elderly nuns still living at the pagoda, has spent eight years at Wat Tuol Preah Reachea. She said Mr. Vuthy had "special knowledge" but never claimed to be a god—although many of those who flocked to pay their respects viewed him as one.
"We respect him because he built the pagoda and because he loves Buddha, and also he can make people believe in Buddhism," she said. "He knows and understands a lot of dharma of monks and priests, which could make people feel that they believe in him."
Surrounded by a group of fellow nuns who nodded in agreement, Ms. Sovann said Mr. Vuthy only sat on a throne—where a Buddha statue would normally be inside a temple—at the behest of his followers, who referred to him as "louk kru," or teacher.
"He preached for a long time, so that since he was 16 years old he has been able to speak with animals. That is something a god can do, so people have considered him to be a god," she said.
Ly Try, chief monk of Pichey Sakor pagoda, the nearest Buddhist temple to Tuol Preah Reachea, condemned Mr. Vuthy's actions as being driven by commercial interests.
"These are not dharma to follow Buddha, these are dharma for cheating people," he said, referring to the teachings of Buddha.
Erik W. Davis, a scholar of Buddhism who has interviewed Mr. Vuthy, said that unless he had dramatically changed his position recently, Mr. Vuthy did not present himself as the fifth Buddha of the era, Maitreya, but as "a person with special knowledge of Maitreya's birth and identity."
"I should add that…some of the pictures I have seen from the recent raid do indicate that he is placing himself in the position of the Fifth Buddha, but that this alone constitutes proof of very little," he wrote in an email.
Mr. Davis, who is an assistant professor of religious studies at Macalester College in Minnesota, said various other figures in Buddhism throughout history had also claimed to be Maitreya, regarded as the Buddha of a new era, who will bring about a violent apocalyptic reckoning before ushering in the dawn of a new age of peace and justice.
"Making such claims, or even profiting off of them, is hardly unusual, and while the Ministry [of Cults and Religion] may charge itself with the defense of Buddhism, Buddhism is far too vigorous to need such defense, having lasted over 2500 years already," he wrote.
"I suspect the real story here is not that Thean Vuthy was making such claims, but that he fell on the wrong side of a patronage network engaged in housecleaning."