Buddhist Institute Is Safe, Minister Tells National Assembly
By Khuon Narim, The Cambodia Daily, October 12, 2014
Phnom Penh, Cambodia -- Despite being hemmed in by construction on all sides as NagaWorld expands its casino empire in Phnom Penh, the Buddhist Institute will not be sold off or rented out, Cults and Religion Minister Min Khin told a National Assembly commission on Thursday.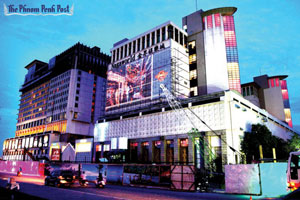 << This "Naga World" casino is among three that threatens the existence of the Buddhist Institute of Phnom Penh, Cambodia.
In May, the institute's front gate was demolished to accommodate underground construction and, more recently, a private firm laid a 30- by 100-meter concrete slab in the middle of the institute compound, raising concerns that the land had been sold.
Buddhist monks took their anger over the possibility of the institute's sale to the streets earlier this week, marching through Phnom Penh in protest and delivering a petition to the National Assembly.
Summoned to answer questions about the state of the Buddhist Institute before the parliamentary commission on education, youth, sports and religious affairs, Mr. Khin gave assurances on Thursday that the Buddhist Institute was not under threat.
"For this Buddhist Institute, we are not renting or selling or developing it for investment," he told reporters after emerging from the commission meeting.
"We are following procedures to remove [the concrete slab] as soon as possible," he said, adding that the government has ordered a halt to construction of other structures in the compound.
Opposition lawmaker Yem Ponhearith, the head of the commission, said that commission members would visit the Buddhist Institute in the near future and monitor the situation until the ministry followed through on its pledge.
In a recording of the commission hearing, Mr. Khin said NagaCorp had been given permission to build the concrete structure on Buddhist Institute land simply to store materials.
Asked by Mr. Ponhearith how much the company was paying for the privilege, Mr. Khin said it was not renting the space, but rather the firm was "just borrowing the land."
"The Ministry is very kind," Mr. Ponhearith replied. "How does NagaWorld get millions in benefits each month?"
In response, Mr. Khin reiterated that the ministry had ordered the removal of the structures.