How Buddhist monks are battling deforestation in Cambodia
by Ate Hoekstra, Deutch Welle, July 7, 2016
Cambodia has one of the world's highest deforestation rates. But a group of Buddhist monks are stepping up efforts to save forests by publicly revealing wrongdoings and mobilizing local villagers.

Phnom Penh, Cambodia -- His memories often bring But Buntenh back to Cambodia thirty years ago. There were jungles as far as the eye could see. Centuries-old trees gave shade and provided shelter to birds and wild animals.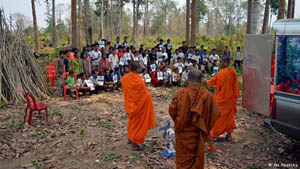 << Buddhist monks collect images and videos of illegal logging, and then spread them through social media. Mönche in Kambodscha
The air was clean, nature gave the local people everything they needed. The forest near the village where Buntenh grew up was filled with wild pigs. "We were hunting them. During my youth, there was nothing as tasty as the meat of a wild pig," the 36-year-old monk said, laughing.
The forests of Buntenh's youth are long gone, and with it the wildlife and the birds that lived in it. The loss of it grieves the Buddhist monk, but he says he is committed to put an end to deforestation in Cambodia while there is still some jungle left.
It's an extremely challenging mission in which Buntenh and his fellow monks, who are united under the group Independent Monk Network for Social Justice, regularly put their own lives at risk.
A large empty forest
On a recent early morning, Buntenh - wearing flip-flops, small glasses and an orange robe - walks through Prey Lang, one of the Southeast Asian nation's largest and oldest evergreen woodlands. The sun shines through the canopy and from afar the crying noise of a motor saw sounds through the air.
Buntenh is on his way to a workshop, in which he and other monks teach the local people how to use social media to protect themselves and the forest. It is badly needed, he says, as the survival of Prey Lang - meaning "Great Forest" in Kuy, the local minority language - is under threat. Large parts of the forest have already disappeared to make space for plantations. In areas that are protected from such land concessions, illegal loggers cut down tree after tree.
"The people who cut down the forest think they are superior, but in reality they are stupid. Only the forest is superior," Buntenh said. Sixteen years ago, he decided to join the monkhood. Now he is trying to convince the people that the world cannot exist without trees. "No one has told me that I should go out there to protect the forest, but for me it was a logical thing to do. I am doing all I can to save it. I plant new trees, I help the people who live from the forest, I am reminding the government of the promises they've made."
It was just after the parliamentary elections of 2013 when Buntenh's message inspired 23-year-old Horn Sophanny. Because Buddhist temples in Cambodia are the traditional place to study, Sophanny had come to a temple to satisfy his hunger for knowledge a few years earlier. But the elections changed everything. The majority of the seats were won by the party of Prime Minister Hun Sen, who was accused of electoral fraud on a massive scale. Many Cambodians were furious and started mass demonstrations that went on for months.
"I had already known Buntenh from Facebook. But when he started his activist movement after the elections, I realized I could do something as a monk," Sophanny said. He joined Buntenh's activist network, which consists of some 5,000 monks. Since then, Sophanny has been at the forefront during protests and has shared all kinds of wrongdoings via Facebook.
Leaning against the pillar of a wooden house on the edge of Prey Lang, Sophanny says that it's the task of the monks to protect the country and its people. That was already the case in the 1950s, when they had a leading role in the fight for Cambodia's independence from the French colonizers, he noted. "We want current day monks to have the same type of role. It is our job to lead society to a better place. We are the symbol of compassion. The pagodas are the roots of our knowledge."
In Cambodia, where over 90 percent of the population is Buddhist, monks enjoy great respect. Their orange and red robes offer them a protection that other activists lack. The authorities are also unlikely to easily use force against them, and the monks use this freedom to collect images and videos of, for example, illegal logging and brutal police violence. These are then spread through social media.
Disappearing tigers and giant trees
In Prey Lang, Buntenh calls for the people to do the same. Men and women, both young and old, have come to the forest on scooters and agricultural vehicles. They listen closely when the monks explain why they shouldn't be intimidated.
The voice of Buntenh sounds through a pair of crackling speakers. "We must speak out when someone is abusing our rights," he tells the crowd. "The authorities think bad about us, but we are the ones that help you to save the forest. Do you know how Facebook works? You have to use it to tell what's happening here."
San Reth, a 63-year-old Cambodian who has lived near Prey Lang for his entire life, is happy with the support of the monks. "For a long time, we hoped a good man will stand up to save our forest," he says.
For many years, the forest has been good for him and his family, Reth explains. "Life was good here. There were deer, elephants, tigers and cobras living in the forest. There were trees and plants that gave us medicines. From my house I only had to walk for a few minutes and I could find everything I need."
Three years ago, on a half an hour's drive from his house, the forest was home to trees with trunks so wide that "you needed four men to circle them," Reth says. But today the same area is dead. The giant trees are cut down, smaller trees are defoliating and the soil is burned and filled with grey-colored ash. Soon a large plantation with only rosewood trees will be built here, the Cambodian man says with a sad face. The wood is meant for export to China.
It's not only in Prey Lang that the forest is disappearing rapidly. Driven by land concessions to build plantations, 14.4 percent of Cambodia's jungle disappeared between 2000 and 2013, human rights organization Licadho pointed out after investigating satellite images from the University of Maryland. Meanwhile, 12.2 percent of the trees were cut in protected areas. It's an ongoing trend with disastrous consequences for human beings, animals and climate.
Reth, who is trying to make a living as a rice farmer now that the forest is disappearing, has protested against deforestation. The authorities responded by charging him and accusing him of inciting instability. He fears that he will soon be arrested. "The government says that the cutting of the forest is necessary for the development of our country. But if this is development, why does it cause us so much grief?" Reth wonders.
An enormous sacrifice
The activist monks are being thwarted as well. They are spied on, threatened and sued. Last year, a pagoda that houses them was searched by the police. Cambodia's Buddhist supreme patriarch, the official national leader of the monks, has turned himself against the activists, saying that monks shouldn't be involved in protests and calling on pagodas to keep the doors closed for those that are.
The activist monks, in turn, accuse the supreme patriarch of being a tool for the country's authoritarian government.
Oun Long knows all about being hindered by the authorities. A couple of years ago, the 30-year-old monk was involved in a mass protest in Cambodia's garment industry. On behalf of the workers he tried to negotiate a peaceful resolution. That failed when the military police ended the protest with brutal force, killing at least five workers and injuring dozens. "We are tired of the government. When we see the people suffer, we have no other option than to resist," he says.
The most important opponent of that resistance is Prime Minister Hun Sen, who has governed Cambodia since 1985. In recent years, Hun Sen has made all kinds of promises of improvement, also when it comes to deforestation. In February, he even gave the police permission to use rocket launchers and helicopters in the fight against illegal logging.
The monks, however, remain skeptical. "We can't trust him. But if he makes promises and doesn't follow them up, we can use these against them. That's his weak point," stressed Oun Long.
In Prey Lang, the workshop is being interrupted by the village chief and several policemen halfway through the meeting, accusing the monks of not having permission to meet the villagers.
Immediately But Buntenh strikes back at them. "Did you come here to chase away the people that try to save the forest? You should chase away the people that destroy the forest. Hun Sen himself said illegal logging needs to be stopped."
After half an hour of arguments, the authorities decide to retreat and let the workshop continue. But the monks know that they will be there again at the next meeting. In a country where several activists and journalists have been killed after reporting about illegal logging over the past few years, it's like a never-ending duel that one day could have a totally different outcome.
Buntenh says he has accepted that risk a long time ago. "I don't think I'm a good monk, because I am mean to the police and to the military," he says. "But I'm ready to give everything for my people and the forest. If I have to give my life for it today or tomorrow, then I'm willing to make that sacrifice."