Bird flu puts element of peril into Buddhist rite
By Alan Sipress, The Washington Post, March 16, 2006
Animal experts warning against traditional release
PHNOM PENH, Cambodia -- Over the centuries, Buddhists in Cambodia and elsewhere in Asia have released the sorrows born of sickness, hunger and war through the simple, cathartic act of buying caged birds and setting them free, sometimes with a kiss.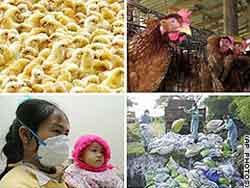 In front of the shimmering gold pagoda of Wat Phnom, built on the grassy hill that lent the capital its name, Cambodians reach inside the metal and wire mesh cages, draw out sparrows, swallows, munias and weavers, often in pairs, then raise them in cupped palms to their lips. The devotees mumble a prayer and then set them free into the warm, still air.
But the tradition, in which devotees seek blessings for this life and the next, could now prove to be a curse. Animal health experts warn that the practice of capturing wild birds, holding them in confined quarters and then turning them over to human hands could spread avian flu among birds, across species and on to people.
So far, avian influenza has not been diagnosed in any of the birds released at the temples of Buddhist Asia, from Thailand to Taiwan. But that is only because so few have been tested, according to Martin Gilbert, a field veterinarian with the U.S.-based Wildlife Conservation Society. The virus, which has killed people in at least seven countries, including Cambodia, and infected birds on three continents, has been discovered in some of the same species that are sold in front of Buddhist shrines.
Gilbert said that the threat is comparable to the danger posed by live poultry markets blamed for several Asian outbreaks of the highly lethal H5N1 strain of bird flu, including one in Phnom Penh this month.
"H5N1 is out there and we have to be cognizant of the risks in acting this way," Gilbert cautioned.
'They want to free their depression'
On a recent morning, Kong Phalla, a young, slight woman wearing a red knit cap, stood under a tree at the base of Wat Phnom, clasping lotus stems in one hand and a metal cage crammed with scores of birds in the other. She said that the birds had been shipped into the city overnight by boat and that she had sold nearly three dozen to worshipers by the morning.

• More international coverage
"They want to free their depression, free their sadness and illness with the birds," Kong Phalla, 23, explained, resting the cage beside a table of incense sticks.
She flashed a thin smile, saying she had brought five cages to the temple and was confident that nearly all 1,000 birds would be gone by nightfall. Bird flu was of no concern, she continued, patting the cage. It is only the foreign tourists who fret, often paying her to release the birds herself so they do not have to touch them.
"Bird flu has never happened to me," Kong Phalla boasted reassuringly.
Spotting a Cambodian man approaching the temple, she abandoned her thought and gave chase, following him up the long brick staircase, past the statues of lions and balustrades of mythical serpents, beseeching him at each step to purchase a few of her birds.
At another pagoda in the Cambodian capital, Khy Sovanratana sat cross-legged on a thin cushion, his orange monk's robe draped over his left shoulder. He recounted the legend of how the Buddha, before attaining enlightenment, had found a swan wounded by an arrow, nursed the creature back to health then set it free.
"Giving life is very much extolled in Buddhism," the monk explained softly. "People here hope that by releasing a bird, they will give life to another being, and they will also be free from illness, trauma and depression."
Moreover, the monk continued, the act of liberating a living creature can also earn devotees religious merit toward reincarnation into a better life.
But, setting aside the sublime, he added: "There's no point if you don't get benefits but instead catch a virus. Monks should be given this kind of awareness and pass it on to devotees when preaching."
Efforts to curb practice meet with resistance
Though the ritual of releasing birds is practiced in several Asian countries with Buddhist populations, the tradition in Cambodia is intertwined not only with religion but national identity. The king frees doves, pigeons and other wild fowl about four times a month -- in especially generous numbers to mark royal birthdays -- and this has complicated efforts to curb the practice.
Its adherents rarely remark on the apparent contradiction of trapping birds only to set them free -- an irony compounded by the attempts of some boys to catch fowl moments after their release so they can be sold yet again.
Gilbert's team has run into resistance from peddlers when trying to take fecal swabs from the birds to test for the disease. So in recent weeks, he enlisted a former Cambodian monk, a young man who swapped the monastery for work as a wildlife researcher, to delicately negotiate with the sellers.
Another U.S.-based group, WildAid, previously tried to curtail the practice of selling birds for the tradition on the grounds that the exchange represented improper trade in wildlife. The group established a rapid-response unit that included Cambodian military police and forestry officials and carried out several raids on bird peddlers. The campaign culminated last June in the confiscation of birds sold at Wat Phnom and elsewhere, according to Nick Marx, who coordinated the effort. But because of religious and political sensitivities, the government postponed further raids.
"We were requested at least temporarily to stop doing this until the government decides what to do about the matter," Marx said. "It's a difficult issue."
Not long after Kong Phalla vanished up the steps of Wat Phnom, a Cambodian family approached another, smaller shrine along the city's Tonle Sap River across from the ornate royal palace. The family briefly haggled with a peddler, then purchased an entire cage of birds, about a hundred of them with frenetic, flapping wings.
Two by two, the family pulled the birds from behind the mesh and, with the occasional whisper of a prayer, set them loose until all of them had disappeared along the banks.
"I have no concern about getting sick with bird flu, and the buyers have no concern," said Srey Leap, a 21-year-old bird merchant, who watched from the shade of a nearby umbrella. "They never worry about this. It is our Cambodian tradition."