Cambodian monks debate right to vote in election next week
AFP, July 21, 2008
PHNOM PENH, Cambodia -- The austere existence of Buddhist monks is supposed to show Cambodians how to live. One thing monks have been forbidden to do, however, is show them how to vote.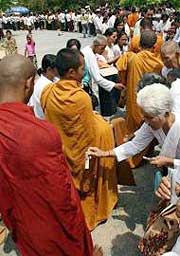 That will change Sunday, when Cambodia's Buddhist monks vote in their first general election since they led anti-government demonstrations a decade ago, when they were beaten and shot in the streets for protesting against Prime Minister Hun Sen's victory.
After the demonstrations, which left at least two monks dead, Supreme Patriarch Tep Vong, head of the country's largest Buddhist sect, barred Cambodia's 54,000 Buddhist clergy from voting.
Monks were still constitutionally allowed to vote, but many who tried were blocked by local officials or threatened with expulsion from their pagodas.
Tep Vong retracted his order last year. When asked why, he said, "it is important for democracy" for monks to vote.
Hun Sen and his Cambodian People's Party (CPP) are widely expected to score another victory in the July 27 poll, extending his 23-year grip on power.
But now that monks are again free to help choose the leader, not everyone agrees on the political role of Cambodia's revered saffron-robed men.
"I think monks don't need to vote because monks are neutral people. If they vote, it can bring biases that can cause fighting," said Lai Heang, a 28-year-old monk at Phnom Penh Botum pagoda.
When Pol Pot's Khmer Rouge swept to power in 1975 it tried to crush Buddhism, one of the greatest threats to the new order of the ultra-Maoist movement.
Tens of thousands of monks were murdered, and most Buddhist texts and temples were destroyed as the regime killed up to two million people in its attempt to create an agrarian utopia.
After Vietnamese-led forces swept out the Khmer Rouge in 1979, the new government appointed Tep Vong to revive the national religion.
Pagodas have once again become centres of learning and culture, and in a country where Buddhism permeates all aspects of culture, upholding the faith is seen as vital for political success.
Politicians across the country donate money, help rebuild a temple or simply spend time in a monastery to demonstrate their access to the sacred power of Buddhism.
"Pol Pot dissolved Buddhism and now he's dissolved himself. Bin Laden and the Taliban regime destroyed the Buddhist statues. Now they are being destroyed," Hun Sen said in a speech at Tep Vong's 70th birthday party.
These days, while images of monks demonstrating in Tibet and Myanmar have recently captured the world's attention, pagodas are no longer hotbeds of political activism in Cambodia.
Still, some young monks believe all supreme monks in the country have a political bias, including a 29-year-old monk at Phnom Penh's Ounalom Pagoda.
"A group of officials came into my pagoda and gave me a piece of paper quite similar to a ballot. They taught me to tick the (ruling) political party," he said.
"I find this quite funny and unacceptable because it is obviously an indirect intimidation to me and other monks in this pagoda," he added.
Tep Vong does not hide his allegiance to the ruling CPP.
"I think you know the opposition never does good action," he said before the 2003 election. "If someone tries to oppose the royal government, they use Pol Pot's ideas."
Venerable Yos Hut Khemacaro of the Khmer Buddhist Foundation is careful not to directly criticise Tep Vong, but said it was vital for monks to work impartially.
"I think many politicians in Cambodia and elsewhere want monks' support and blessing, but not their teachings," he said. "Politicians respect us with gestures, but we must teach them all the time."