Buddhism in Cambodia still recovering
By Cherry Thein, Myanmar Times, Volume 26, No. 521
Phnom Penh, Cambodia -- AFTER joining a Sunday group meditation at Wat Langka on Sihanouk Boulevard Road in Phnom Penh, I was approached by a Buddhist monk who gave me a copied textbook written by Mahasi Sayadaw.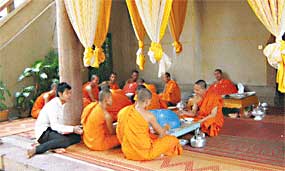 << Wat Langka
Monks eat lunch at Wat Langka, one of Phnom Penh's most famous Buddhist monasteries. Pic: Cherry Thein
I think the thanaka on my cheeks encouraged him to ask, "Are you from Myanmar?"
He introduced himself as Venerable Yos Hut Khemacaro, from the Khmer Buddhist Foundation and Dhammaduta. He said that while only a few Khmer practised Vipassana meditation, the number seemed to be increasing each year.
"We want to offer intensive meditation courses in the future when we have enough interested people and when we also have enough teachers for the courses," he said.
"As far as I know, there is not yet any wat (Buddhist temple) that can offer intensive Vipassana courses. If monks or lay people want to know more about the teaching of the Buddha and meditation I always suggest that they go to Myanmar."
Venerable Yos Hut Khemacaro holds a three-hour group meditation session on Sunday mornings, as well as one-hour sessions on Monday, Thursday and Saturday evenings.
He said the Buddhist monks who live near the wat help with the teaching.
However, the number of educated monks in Cambodia is small; many were murdered by the Khmer Rouge, which ruled the country from 1975-1979.
The regime destroyed Buddhist institutions and tried to erase the religion from the Khmer consciousness. Today, while most Khmer consider themselves to be Theravada Buddhist, the religion still plays only a small role in most people's lives.
Perhaps indicative of this is the fact that wats have mostly a practical, rather than spiritual, role in society here. (A wat is the Khmer equivalent of a pagoda, with spacious grounds and solemn prayer halls.)
"Most of the wats are busy with cremation services," Venerable Yos Hut Khemacaro said. "The type of preparations depends on the wealth of the family of the deceased. Monks have to assist with the activities and then we earn donations from the family, which we use for the upkeep of the wat."
That is, until late last year, when the local governor introduced a controversial law making it illegal for a cremation to take place at a wat, ostensibly to keep air pollution down.
Mr Sorn Sunsopheak, a journalist from The Phnom Penh Post, an English- and Khmer-language daily based in Phnom Penh, said the ban came into effect last November.
"As the number of the people living in [Phnom Penh] has increased, it's more important to keep the air as clean as possible, which is hard when there are cremations taking place every day. There are more than two million people in this city," Mr Sorn Sunsopheak said.
Mr Sorn Sunsopheak, who was previously a monk at Wat Presput Manbun, near the Olympic Stadium, said he supports the ban, as he believes a wat's primary role is as a place of meditation.
"When I was a monk I was often put off by the smell of the cremation; I used to think to myself that the monastery should be used for quiet meditation instead of these ceremonies," he said.
"One private company, under the guidance of the governor, is now offering funeral services at a location outside the town. Some people still donate money to the wat when they have a funeral, but they also have to pay a fee to the company for the cremation."
Despite the possible drop in income, Venerable Yos Hut Khemacaro said there were positive aspects to the ban, particularly for the monks living in monasteries adjacent to wats.
He said holding funeral and cremation ceremonies at wats was a local, rather than Buddhist, tradition and was primarily a charitable service for poor people who could not afford the cost of a normal funeral.
"We [monks] live too close to the wat and had to put up with the smell each day," he said, adding that a wat would hold as many as three cremations a day. "We couldn't do much about the situation because it has been a part of Khmer culture for a long time. We also thought that if we didn't offer this service nobody would come to the wat. Well, I'm happy to say that people are now coming for meditation instead."
U Than Zaw, a Myanmar national living in Cambodia, said he had a Myanmar friend who was cremated at Wat Langka, one of the most famous monasteries in Phnom Penh.
"One of my friends was cremated at Wat Langka not long ago, and they didn't charge us anything but we donated money to the wat. It is good a service for the poor, but so smoky and smelly," said U Than Zaw, who works at the Australian Centre for Education.