Monks gather for congress in Cambodia
by Khouth Sophakchakrya, Phnom Penh Post, 4 January 2011
Phnom Penh, Cambodia -- More than 800 monks from across the country gathered in Phnom Penh for the 19th National Monk Congress yesterday, where they received reminders of the importance of Buddhist morality following a year that saw frequent transgressions by wayward members of the monkhood.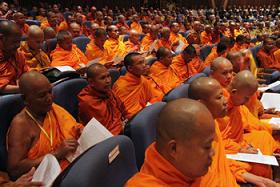 << Photo by: Pha Lina
Saffron-robed monks attend the 19th National Monk Congress held at Chaktomuk Theatre on Tuesday.
In a speech at the closing ceremony of the congress, Deputy Prime Minister Men Sam An told participants that Buddhism was traditionally a source of knowledge for young Cambodians.
As a result, she said, monks have a duty to inculcate the proper moral virtues and contribute to social development, calling on members of the monkhood to strive to apply "Buddhist principles" in their daily lives.
"Religion is an essential way of improving development because religion attracts participations from all levels of people," she said.
"Buddhism has improved the morality of the people, as well as helping Buddhist monks join together with the people to develop Cambodian society."
2010 was marked by a series of transgressions – criminal and otherwise – by members of the Cambodian monkhood. Most infamously, Neth Kai, a monk at Srah Chak pagoda in Phnom Penh, was sentenced to 17 years prison in October for secretly videotaping hundreds of naked women bathing in the pagoda bathroom.
On a more positive note, Men Sam An hailed the great strides taken by the monkhood since the overthrow of the Pol Pot regime 32 years ago Friday. She said just seven monks survived the regime, a number that has grown to 56,301 today.
Minister of Cults and Religions Min Khin also told the congress that the Ministry was in the process of reforming the structures of the Buddhist sangha, or community, to promote national development and strengthen adherence to Buddhist morals.
"We are now strengthening the administration of monk structures, as well improving pagodas' administration, Buddhist studies, and the distribution laws and regulations relating to the Buddhist religion, a move aimed at maintaining stability, peace, and social progress," he said.