Of Bars, Blessings, and Buddhist Youths
By Khan Sophirom, SEAPA, January 17, 2007
VIENTIANE, Laos -- Every morning at around six o'clock across this landlocked nation, Buddhist monks stream out of temples to receive ritual food offering from the people. By eleven a.m., the soft sound of the beating of drums alerts people to take food to the temples for the monks' last meal of the day.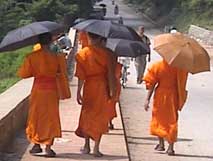 << "Most young people do not have a clear understanding of Buddhism. They don't understand the importance of praying anymore. When they go to the temple, they don't know how to practice Buddhism properly." - Venerable Vanna Souryavong
As in other Southeast Asian nations where Theravada Buddhism is the dominant religion, Laotians go to the temple to make merit, pray, or meditate. Exquisitely decorated and surrounded by high white boundary walls, the temples are centres of community life in the rural areas.
The widespread popularity of any faith seems out of place in a nation with communist rulers. (After all, didn't Karl Marx say that religion was the opium of the masses?) But unlike in other communist countries, the government in Laos recognizes and supports religion – in this case Buddhism -- as a positive influence in the lives of the people. One could say that the propagation of Buddhism in Laos has the state's blessing.
Khampheuy Vannasopha, director of the Department for Religious Affairs in the government-sponsored Laos Front for National Construction, says Buddhism has helped to maintain and strengthen national unity and solidarity. The teaching of Buddhism is compulsory in every primary school in Laos.
Indeed, to a visitor, it does seem as if most Laotians remain devout followers of their faith. But many older Laotians and even monks are worried that the country's youths – especially those in the cities -- are getting less and less interested in practicing their faith.
Venerable Vanna Souryavong, chief monk at Wat (Temple) Mixayaram Meoung Chanthaboury, for instance says that excepting special religious ceremonies, 90 percent of the temple-goers in Laos are older people.
"Most young people do not have a clear understanding of Buddhism," he says. "They don't understand the importance of praying anymore. When they go to the temple, they don't know how to practice Buddhism properly."
Jahnphong Luanglard, 79, also finds the attitude of the young towards religion very different from that of his generation. In the old days, he says, people went to the temple to learn and their daily lives were closely linked to Buddhism. Today, he says, young people do not visit temples regularly and get their education in public schools.
In traditional Buddhist societies, temples are also considered educational institutions, especially among the males. Says Jahnphong: "I grew up in the temple. That is why Buddhism is my foundation. Now, young people don't think like me, including my children. Sometime they go to the temple just to follow me, but they know nothing about the meaning of going to the temple."
According to official estimates, there are 4,937 Buddhist temples in Laos. There are also 8,796 monks, 13,376 novice monks, and 450 nuns in the country to guide its more than five million Buddhists.
A long, colourful history
Buddhism has a long history here. It arrived in Laos sometime during the 14th century, when the founder of Lan Xang (Land of a Million Elephants), King Fa Ngum, is believed to have brought the religion from the neighbouring Khmer kingdom of Angkor to strengthen his rule.
Hundreds of years later, the communist Pathet Lao movement, which came to complete control of Laos in the mid-1970s, acknowledged the important role of religious devotion in state building. And so while Buddhism was coming under attack in Cambodia, where a group practicing an extreme brand of communism had seized power, the new regime in Laos used religion to reinforce its credentials. Monks were brought into the official education programme to support Marxist ideology with Buddhist religious maxims.
Phikhok (Monk) Khamphouy Boeepphaphoe of Wat Sisangvone in Saysettha district says that Buddhists should go to the temple at least four times a month, especially during religious ceremonies, to experience the richness of their faith. But, laments the monk, young Laotians now visit entertainment venues more often than temples.
Bars serving alcohol late into the night are open all across the country. In Vientiane, young Laotian women can be seen drinking beer, playing snooker or dancing with foreigners in the many bars on Fa Ngum Road along the Mekong River. The capital has several popular nightclubs such as the Mina, Novotel, and Soradith where large groups of young people on motorcycles gather every night.
Phikhok Khamphouy believes the exposure of city youths to Western cultural influences has much to do with their seeming disinterest in Buddhism. Although not as bustling as neighbouring countries like Thailand and even Cambodia, Laos still attracts a fair share of Western tourists, and the cities they visit inevitably start offering venues that cater to their tastes and whims.
"Today," says Phikhok Khamphouy, "there are many temptations and it is too easy for young people to waste their time drinking, dancing, racing their bikes, misusing the Internet and engaging in anti-social activities."
Bars, Buddhism, and the novice tradition
Ask the city youth themselves, though, and most of them deny that they are straying from the Buddhist path. Pu Thasannath, an 18-year-old Vientiane resident, for instance says, "I am a Buddhist. I know Buddhism is my culture and a nightclub is part of Western culture. However, I still go there because all my friends go there."
She admits, however, that she does not visit the temple often because she is busy with her studies and goes there only for special Buddhist ceremonies. "I visit the temple to pray and ask for happiness from the Buddha and I visit the night club for fun and enjoying the company of my friends," says the Japanese-language student.
Van Sophantana, 21, also says, "I am really a Buddhist because my parents are Buddhist." Still, he says he does not know "very well" how to follow the principles of the faith. But he says he makes it a point to go to the temple once or twice a year, especially on Visakabusa -- the main Buddhist holy day in mid-May -- which marks the birth, enlightenment and passing away of Lord Buddha.
"If I am not wrong, I think the temple is a place for meditation where people go when they are upset about life," says Van. "For me, I am never sad and that's why I do not need to go there."
Van, who is still in university, says he goes to nightclubs to meet friends, dance and drink beer after his examinations. "Today I am happy, I don't want to go to the temple to annoy any monk and people there," he says, "but in the future if something sad happens to me, I think I will go."
Not surprisingly, Van says that he did not become a novice, a practice that remains popular among males in other Buddhist-dominated countries in Southeast Asia. Buddhist boys must become temple novices to earn merit for their families and to grow up as good, responsible, and peaceful men.
But Laotians say fewer young men in the urban areas now follow this tradition. Lat Davan, a 57-year-old resident of Chanthabuly, Vientiane, even observes that now it does not seem as "important" as it was in the past. She says she herself had married her husband only after he had served at the temple as a novice.
Somphou Vatanachit, a 24-year-old graduating tourism student, argues that it is simply difficult these days to be a novice monk. "I do not have enough time to be a novice or visit the temple often because I have to study to get a good job," he says. "I think Buddhist temples can offer me something good, but I think it is not enough and better than the university."
Venerable Vanna says that while temples cannot train young men for modern professions, these can be places to learn about social responsibility and good life values. These basic values cannot be provided by modern education and "without them, society will have big problems," he adds.
Faith stronger in rural areas
The good monk, however, may find comfort in the knowledge that religious devotion can still be found among the rural young. In the southwestern border province of Champasak, where Buddhist temples are not as beautiful as those in Vientiane, support for the faith is stronger. In fact, six new temples are being built along the highway, some 40 km from the provincial capital Pakse.
Few young people in Vientiane offer alms to monks, but the attitude of youth in Champasak is different. Says Sophansa Sophavan, a 21-year-old Pakse resident: "When a person becomes a monk, he cannot go to work. But he has another role in society. That is why I, my family, and my neighbour, offer him support."
A monk is an "advisor" to society, he also says.
Venerable Siphong Leunglard, chief monk of Wat Pho Xay Phout Vong Chan in Patoun Phone village in Champasak, for his part observes that people in the countryside are more religious than those in the cities.
Venerable Siphong lived in a temple about 48 km from Patoun Phone before accepting the villagers' invitation to become abbot of their temple. It is common for a village of 20 to 50 households to have a Buddhist temple, which is regarded as a "place of peace for the mind and soul," he says.
Built in 2003 with the villagers' support, Wat Pho Xay Phout Vong Chan has a small cement image of Buddha, as well as three monks who live in a very small house.
Buddhism is life's guiding principle for Saysa Mome, a 24-year-old student in Pakse. "Usually, in my village, when we are 15 to 18 years old, we have to become novice monks to know the bad and the good before we start working," he says.
As a novice, he learnt how to stay away from bad things and understood the importance of stability in life: "All this knowledge is a guide for my future," says Saysa.
Buddhism has an important role in the lives of the people, says Saythong Satirathat who runs a guesthouse in Champasak on the road to Wat Phou, a Hindu Siva shrine that became a Buddhist temple in the 16th century. Many Western tourists visit Wat Phou every day. But so do locals, including Saythong, who goes to pray at the temple regularly with his children and neighbour. "Usually, if my family is busy, my neighbour takes alms to the temple and if they are busy, we do it for them," he says.
Bub By, a 23-year-old Champasak woman outlines the five main doctrines of her faith: "Buddhism prohibits drinking alcohol, killing, gambling, loving another person's wife, and stealing. If we can follow all, we can live in peace and happiness."