Banned Vietnamese Buddhist Group's Pagoda Blockaded
Radio Free Asia, May 7, 2013
Ho Chi Minh City, Vietnam -- Security forces in southern Vietnam surrounded the pagoda of a banned Buddhist group over the weekend and barred monks from leaving the monastery, in the latest crackdown on the group in the one-party communist state.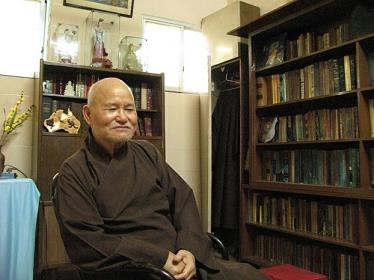 << A file photo of Thich Quang Do at the Thanh Minh Zen Monastery in Ho Chi Minh City.
The blockade of the Giac Hoa Pagoda belonging to the banned Unified Buddhist Church of Vietnam (UBCV) in Ho Chi Minh City came as activists gathered in parks in cities across the country to stage "picnic" demonstrations calling for protection of human rights.
Some 50 security personnel including police and plainclothes agents surrounded the pagoda on Sunday, the Paris-based UBCV-affiliated International Buddhist Information Bureau rights group said in a statement Tuesday.
That morning, the head of the pagoda Thich Vien Hy and UBCV deputy leader Thich Vien Dinh were pushed back inside by a "gang" of plainclothes agents who surrounded their car when they tried to leave the monastery, IBIB said.
The two were going to another monastery to visit UBCV patriarch Thich Quang Do, who has called on followers to support public protests in Vietnam's cities in recent years.
Security agents refused to provide a police warrant or explanation for why the monks were not allowed to leave, except to say they had "orders from above."
Other monks were also barred from leaving the monastery to conduct prayers or funeral services for local Buddhists.
The IBIB did not say whether the siege of the pagoda has ended.
According to the IBIB, police have regularly "systematically blockaded" various UBCV pagodas around on weekends since July last year, when Thich Quang Do called on followers to support a series of weekend anti-China rallies led by activists across the country.
Public protests are rarely allowed in Vietnam, and the recurring rallies calling for Hanoi to take a stronger stance against Beijing over territorial disputes in the South China Sea were at first allowed to go ahead but eventually faced stricter controls.
Unsanctioned religious groups face strict controls in Vietnam, religious activity is monitored and groups must be supervised by government-controlled management boards.
'Picnic for human rights'
This past weekend, in an ingenious move, activists organized protest "picnics" in Ho Chi Minh City, Hanoi, and Nha Trang in the hope that the gatherings will not be shut down like the anti-China rallies.
But police dispersed the gatherings.
In Ho Chi Minh City, three activists were briefly arrested after they handed out copies of the Universal Declaration of Human Rights.
Blogger Nguyen Hoang Vi, who had helped organize the Ho Chi Minh City gathering in the April 30th park, said she was held until late Monday and suffered beatings by police.
"When I went to the picnic spot, police arrested me and sent me to Phu Thanh police station," she told RFA's Vietnamese Service.
When she went back to the police station with her mother after her release to get her belongings, police beat her and puller her mother's hair violently, she said.
"When my mom told them off, they started to beat me. They grabbed my mom's head and dragged her out," she said.
Fellow blogger Vu Quoc Anh was beaten after he confronted people in the park who were using hoses to douse picnickers with water to disperse the gathering and was taken to the police station until Sunday night.
"When I did not cooperate with them, they slapped me, on my head and neck," he told RFA.
Activist Hanh Nhan was also briefly detained.
An announcement about the May 5 picnic protests circulated online on April 30, the anniversary of the end of the Vietnam War, calling for people to gather in the parks to discuss human rights with the aim of "contributing to a beautiful society."
"What needs to be done to improve the human rights situation in Vietnam so that Vietnam will become a strong country with a prosperous people and a just, democratic, and civilized society?" it said.
----------------
Reported by RFA's Vietnamese Service. Written in English by Rachel Vandenbrink.